Skip to content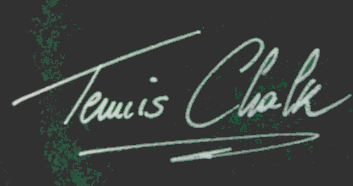 Shots to remember
The Winner Takes It All (…But Who Is That In the End?)
"I don't wanna talk
About things I've gone through
Though it's deporting me
Now it's history

I've played all my cards
And that's what the Gov's done too
Nothing more to say
No more ace to play

The winner takes it all
The loser's standing small
Beside the victory
That's his twenty-first

I was in your hotel
Thinking I belonged there
I figured it made sense
Making me an exempt

Building me a visa
Thinking I'd be strong there
But I was a fool
Not playing by the rules

The PM's may throw a dice
Their minds as cold as ice
And the tournament down here
Loses someone dear

The winner takes it all (takes twenty-one)
The loser has to fall (has to fall)
It's simple and it's plain (it's so plain)
Why should I complain? (Why complain?)

But tell me, does he bite
Like I used to kiss the Cup?
Does it feel the same
When he wins in five sets?


Somewhere deep inside
You must know I miss you
But what can I say?
Rules must be obeyed

The judges will decide (will decide)
The fans of mine await (await)
Spectators of the show (of the show)
Always booing some (booing some)

The game is on again (on again)
Aussie's ignite a female friend (is a friend)
The boos make you feel small (feel small)
The winner takes it all (takes it all)

I don't wanna talk
If it makes you feel sad
And I understand
You've come to take my bags

I apologize
If it makes you feel bad
Seeding me and bet
On self-clearance
But you see

The winner takes it all
The winner takes it all

So the winner takes it all
And the loser has to fall
Throw the dice, many an ace
Way down here, someone dear
Takes it all, has to fall
And it's plain, why complain?"1

The Aussies might be wrong at times, but the Swedes are not – especially when they consist in a slender, blonde melanchonic girl with a nightingale voice ("a girl with golden hair") you just are not able to argument back2.
You are supposed to aknowledge the value of the last one standing – the winner in the end. In tennis in particular, we all know that a great performance in the first rounds of a tournament is no guarantee whatsoever, to the point that great champions (well, in fact only the greatest, namely the Big 3) are all right with leaving something on the field during the former week of a major, in the form of a few extra games or even more sets than necessary. They allow themselves such a luxuty in order to be mentally loaded when the real silverware gets in sight and what is at the stakes might wear their mind out. They do not seek a good performance, the seek to triumph as the best of the pack.
No wonder Mr. Djokovic was desperate to pursue this path of glory once again. I would rather call him Mr. Djokovic as this is the form we have been reading about him most recently: on government statements and judicial published sentences, more than as Novak or Nole Djokovic on tennis newsreels. I would rather, on the other side, not recall his misfortunes with the immigration policies to the former British jailhouse and its contingencies, nor his unconventional medical attitudes , since I pretty much assume everyone here has had enough last month.
Let's just claim Mr. Djokovic's assumption underneath his awkward adventure down under was simple and straightforward:
Fair enough – Slams are supposed to be the tournamets where the best of the best compete for the ultimate glory. Their ultimate mastering of the craft makes the event unmatched by all the other pursuant, in primis by the cash-propelled Master 1000. Hence, a Slam without the leader of the pack, who happens to also be the defending champion, would seem absurd. For sure it seemed absurd to Mr. Craig Tiley, the South African head of Tennis Australia, whom I may well see scratching his head on his desk of command from September all through December, at the gloomy perspective of having to set up the biggest show of tennis on earth, the Happy Slam, in the unhappy situation of setting up the male draw with Mr. Djokovic Missing-In-Vaccination. It must have been with a mix of enbarassment and despair that he might have approached the State of Victoria authorities to, well, if not arrange at least secure a path to glody for the Serbian phenomenom. How could we have done without him? He certainly did not want the Australian Open gentlemen's singles tournament to turn into a joke of a local junior tournament.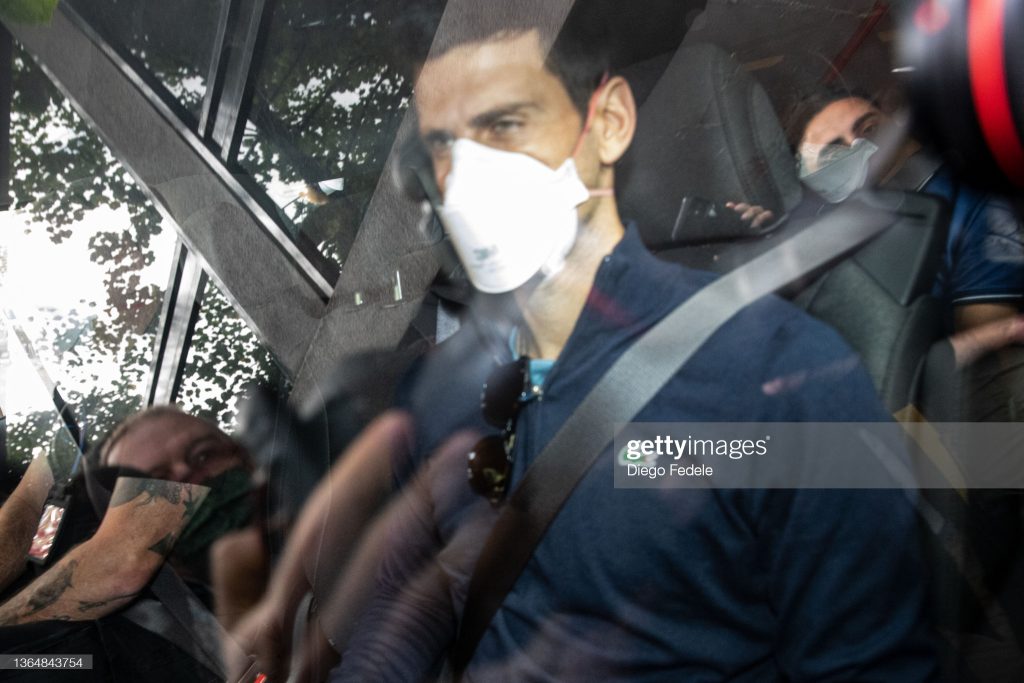 SPOILER ALERT (skip this paragraph if you like crime stories): as for myself, I simply looked back at the last time a ruling no.1 male player and defending champion skipped a major. Oddly enough, it had not happened that long ago: Wimbledon 2009. Obvious enough, it had happened to Rafael Nadal on one of his seven-hundred-something injuries. About that tournament, in the end everyone remembers about the Federer-Roddick five-set fierce battle, most remember Roddick on the edge of breaking down in tears on the shoulder of the Duchess of Kent who is trained in this line of duty, many remember Federer surpassing Pete Sampras' amount of Slams (and Pistol Pete was kind enough to be present on the stands while we was shelved together with the history books), several ones remember Roddick's atrocious volley aimed at the ballboy's nose… almost no-one is able to the missing Spaniard.
After the Djokovic-Tiley-Victoria scheme to save the nobility of the tournament ended up as it did, with Mr. Djokovic's deported into his fatherland's (and his big-mouthed father's) affectionate arms, the audience would have had to lose interest in this fabricated Slam, on top of two weeks of a judicial drama with political campaigning implications. How dull it all looked to be, how bleak the future of the 2022 AO.
But then, it all started.
A first week of remarkable high level of tennis, both on the gentlemens' and the ladies' side, with few seeded players falling from grace, but often with good fights. Good stories were all over the place, and the local heroes produced their good share of showtime. Ashleigh Barty was a woman with a mission: to clinge the title so as to establish herself as the one, legitimate new Queen of Tennis. Quite expectable for the No.1 ranked? Not so much if you are on the back of a unfavourable cabala that had prevented Aussies from winning their local tournament since a few good forty years, putting the smiling plump in the conditions to succeed where Pat Cash, Pat Rafter, Lleyton Hewitt, and herself, had failed miserably.
Showman and wanna-be NBA star Nick Kyrgios produced a fierce battle against the now No.1 favourite (and wanna-be world No.1) Daniil Medvedev, entertaining the home crowd and gifting the Russian another audience to clash with. Kokkinakis and his 4K injuries made it to the second week in a tearful run. Eventually though, they triumphed together in the doubles event (the odd pair) in an all-Aussie final. Dear oh dear, with Ashleigh being able to break the spell, could have this Australian Open been any more Australian?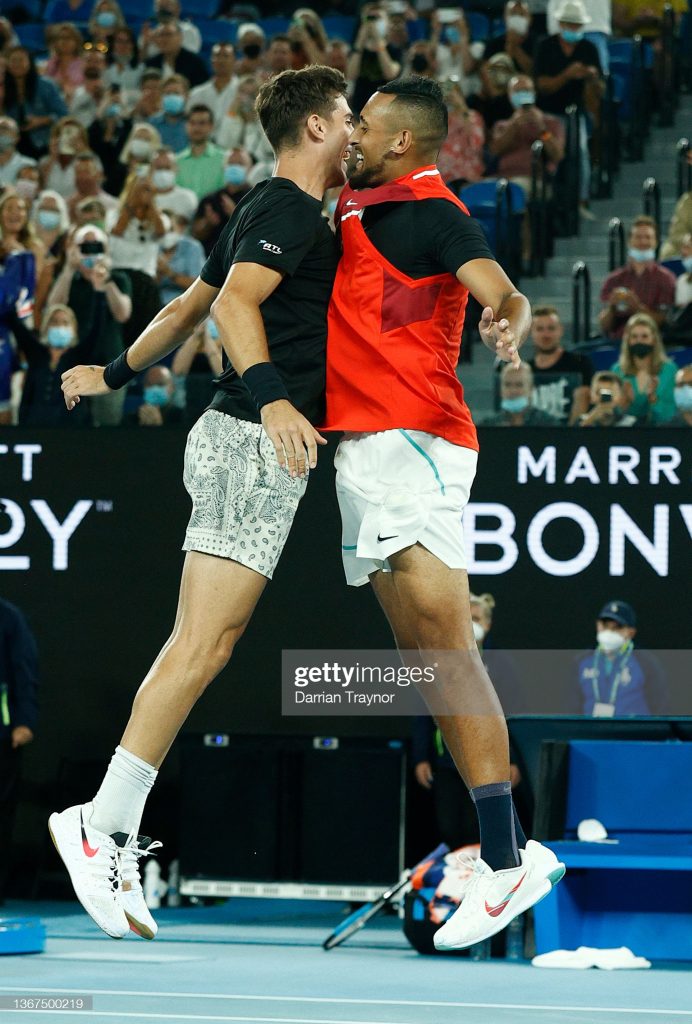 Fairytale comeback stories came from a few players who according to their doctors should have been sidelined (that is probably why you do not read about doctors succeeding as great motivators): Rafael Nadal, still jealous from Federer's epics of 2017, desperately wanted to win this tournament after a six-month injury (what else?) hiatus. He had won a tour-level tournament under radio-silence conditions – as everyone was distracted and curious about Mr. Djokovic's room bedbugs size. Quite as ever, the former golden boy of Spanish tennis had a plan in his mind, but above all he had several gameplans to turn down Berrettini's cannon-ball and Medvedev's skizofrenic groundstrokes. On top of everything, he had experience of being broken back in a final fifth set under his belt (courtesy of King Roger), so this time he held firm.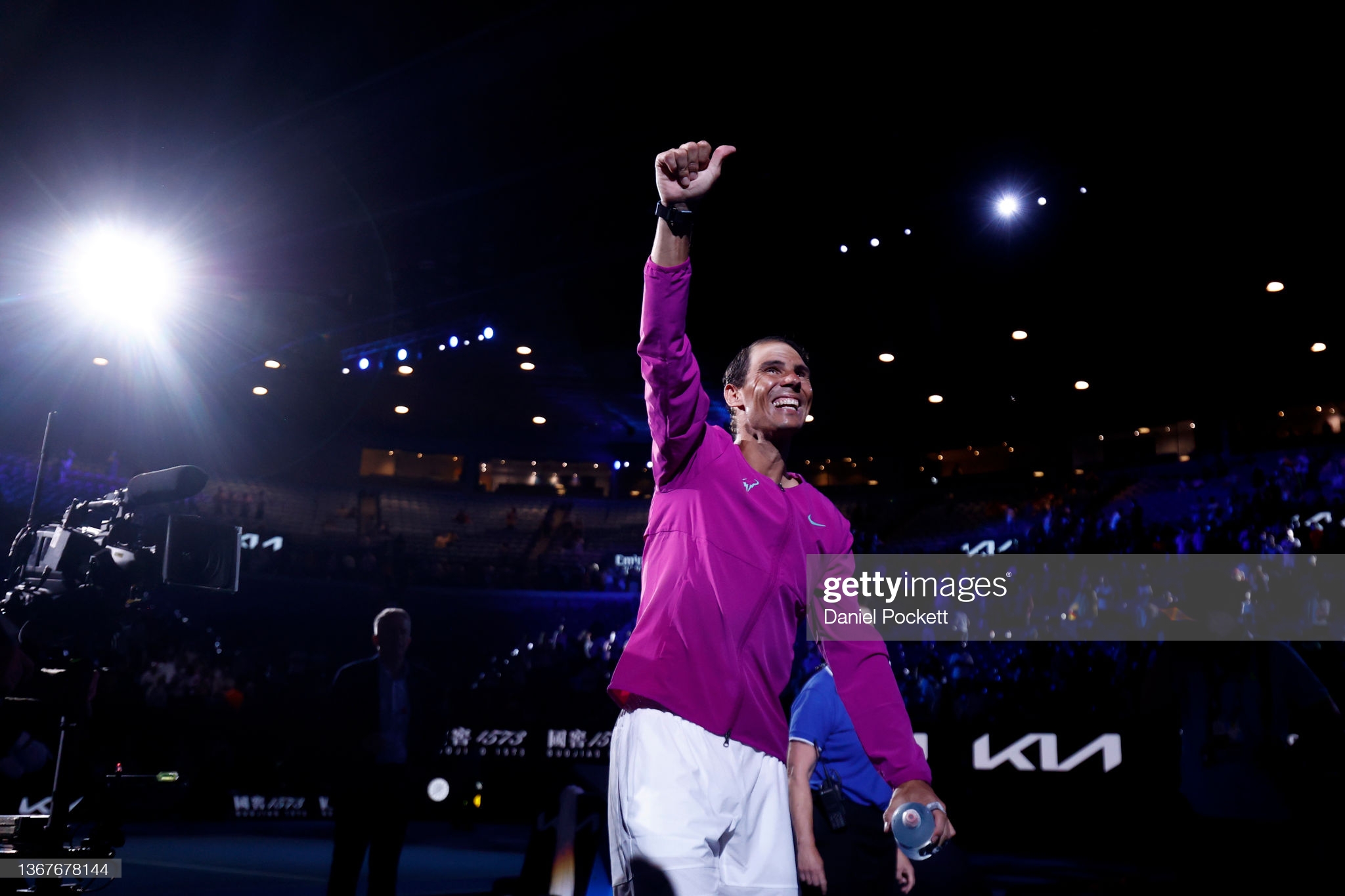 Stefanos Tsitsipas, let's put it straight, had what is more similar of a slump, following his debacle at last year's Roland Garros final. Strange enough for a kid with such self-confidence to always being on the brink of trading blows with big Medvedev and posting unrequested philosophical considerations on this social media accounts. Indeed, we discovered his elbow had blown up and he needed surgery. While everyone was expecting another, understandable low-key performance, he made it far better than fired-up Sasha Zverev, completely dismantled the Atomic Gingerhead Jannik Sinner in the quarterfinals, and only fell in four sets to his bulls**t Russian nemesis in the semi, but still levelling his best performance in Melbourne.
Danielle Collins, a graceful angel off the court and a demon on it, had spent more of her early 2021 at clinics than on the tennis court. She had eventually somehow sorted out her two major diseases, but the distress should have taken its toll on her. Nonetheless, just like Caroline Wozniacki, this college-graduate has a large smile, but a tough-as-steel attitude. She did well in Paris, then won back to back WTA tournaments in the summer, and crushing all ladies on her way to the final. She finally laid down all her devilish character to put Ashleigh Barty (and the whoel audience) in the corner in the second set, leading 5-1 before succumbing. She left Melbourne with a Slam final very few had expected to be a feature of her career, as a Top-10 player, and above all the new US No.1 player.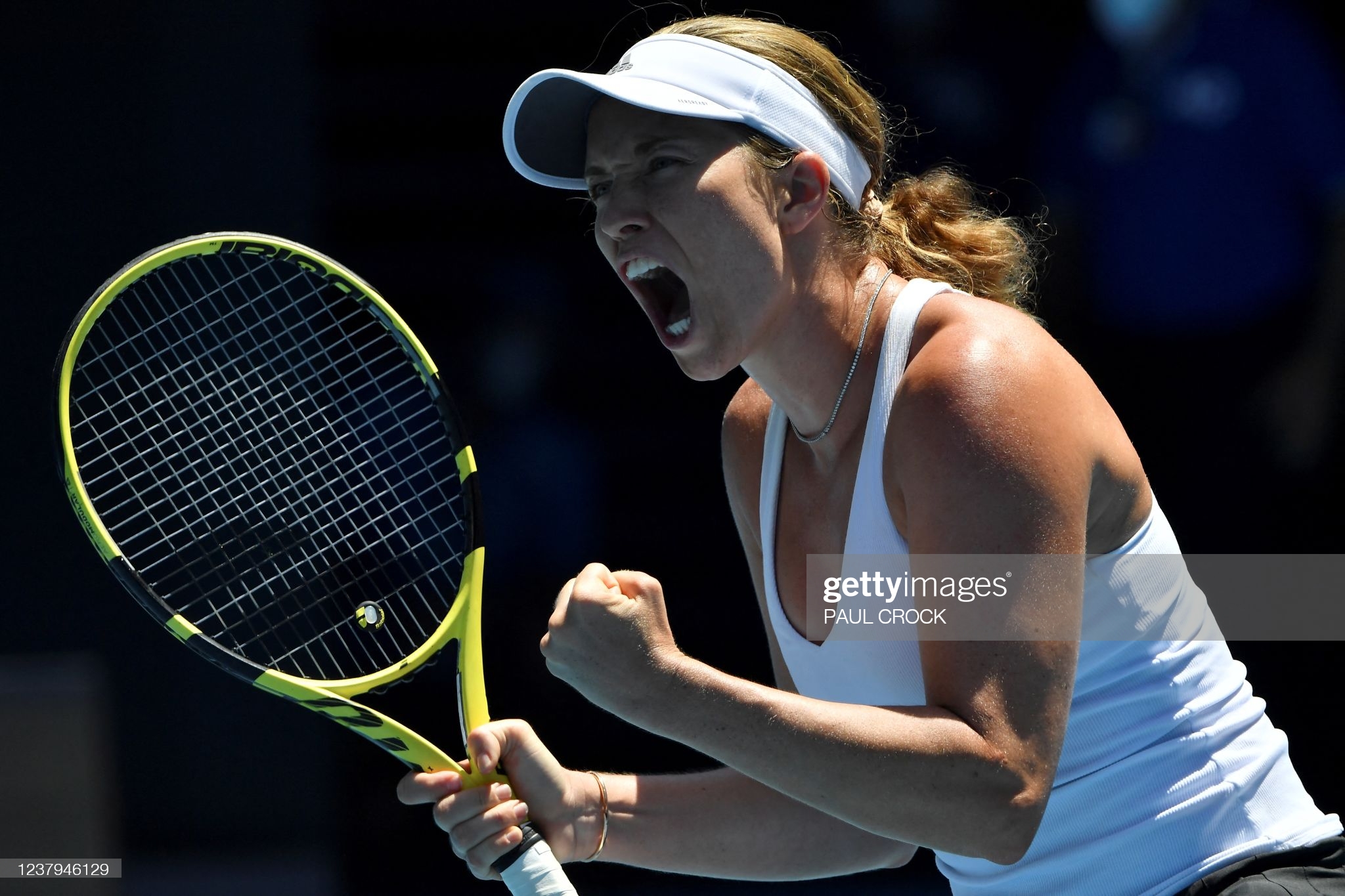 Well, now let's wrap up.
I have not listened to either speech of Craig Tiley during the prize ceremonies: it would have consisted in the usual bunch of thanks to the staff for having all put their best efforts, to the sponsors for having all put their best checks, and to the audience for having purchased their tickets and having refrained themselved from throwing bottles at Medvedev. In fact, he should have thanked the Real Winner in the End. At the start of the tournament, I had assumed his days at the helm of Tennis Australia were already numbered, after his stellar mediatic failure in smuggling Mr. Djokovic into Australia at all costs. On the contrary, all that fluff had achieved to extend the drama of the 2022 Australian Open from a fortnight to a good month: the customs soap-opera was only the first of the many stories of which I have been able to produce a brief and incomplete account. The two subsequent weeks presented to all fans the usual and incomparable set of twists, turns, exquisit tennis games, ultimate passions, unexplicable shock exits, epic runs as underdogs, last-man-standing fights, and tons of glory.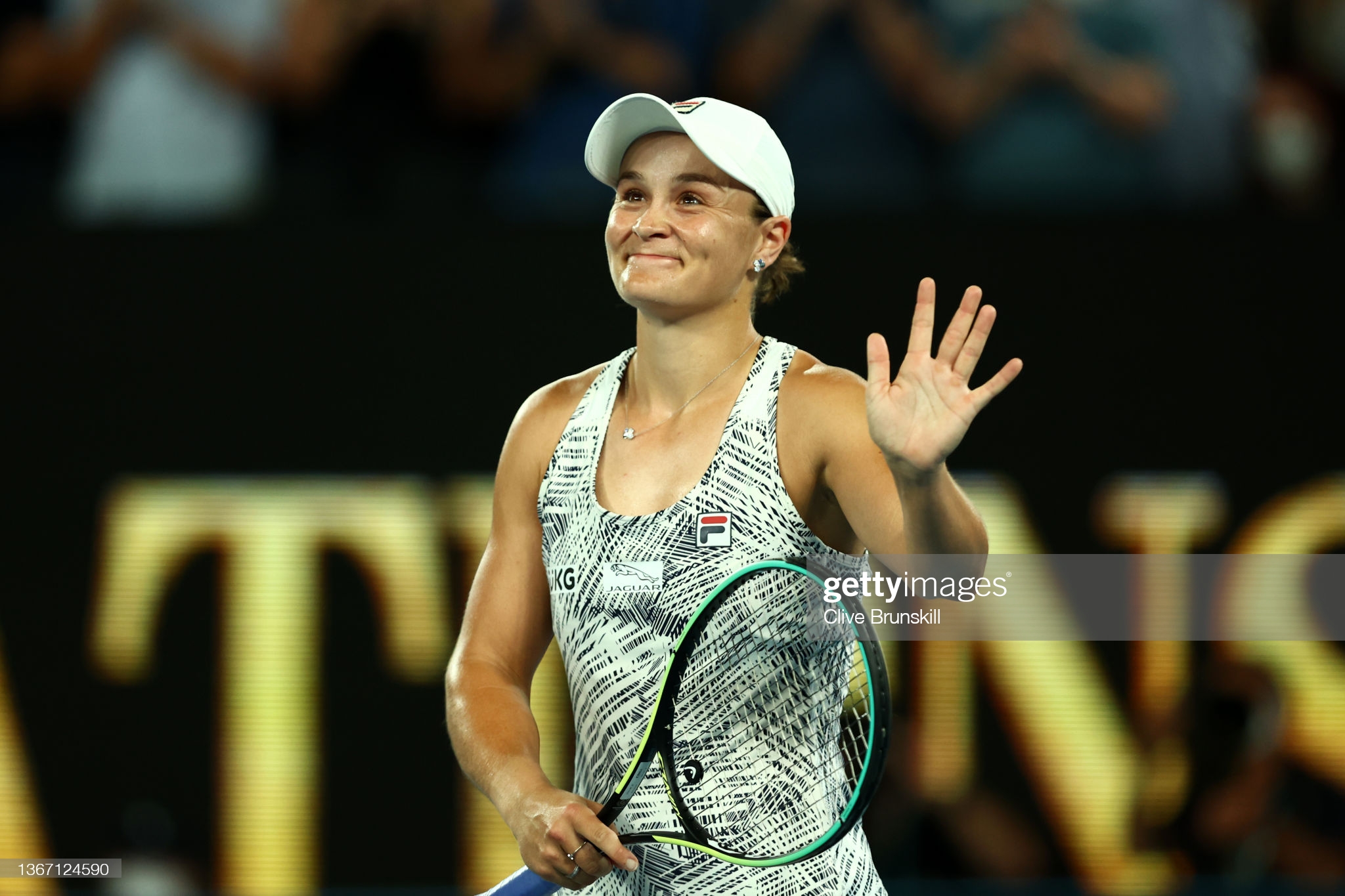 The 2022 Australian Open is the Winner who Takes It All in the end. It may have had its flaws, but those were flaws that only four tournaments in the world are able to turn into assets, their splendor and accidents both good for the centuries. And this is something that, had he realized about it upfront, would have saved Mr. Djokovic's from a void intercontinental round-trip. He had tried to gain access to the Australian Open on the assumption it cound not do without his presence, but his attempt was sheer testamente and acknowledgement that it is more the players of the moment desperately needing the century-old Slams, rather than the other way round. Please keept it in mind for Paris.
1 Free elaboration on lyrics for the ABBA song "The Winner Takes It All" (1981)
2 For all of those, including my own wife, who actually preferred Frida: I am still right, as the latter happens to be Norwegian.