Skip to content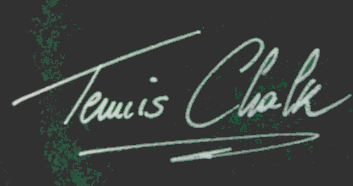 Shots to remember
Roland Garros Remembered…Rus Shocks Clijsters
I have followed Arantxa Rus since meeting her parents in 2007 at the Rue Le Village d'Auteuil, a brasserie near my hotel in the 16th Arrondissement, where I stayed during Roland Garros. After watching their daughter's first round Junior Girls' match (she defeated Ioana Gașpar of Romania), they were looking for a place to eat before returning to their hotel. They made the short walk from Stade Roland Garros, and we ended up being "table mates…" sitting next to one another. For years thereafter, we would dine several times annually whenever their daughter played the tournament.
When Rus recently won the Hamburg European Open, I was thrilled…and not simply because of the accomplishment but because of the associate memories that resulted. Her victory was momentous…She was the oldest first-time finalist at a Women's Tennis Association Tour tournament in 17 years and at 32, she became the oldest first-time winner in the past 40 years. (In addition, she did it on July 29th which just happened to be my birthday.)
In the final, Rus defeated wild card Noma Noha Akugue, a 19-year-old Hamburg resident playing her first WTA event, 6-0, 7-6. During the trophy presentation, the champion talked about how special the victory was and emotionally dedicated the win to her father, Lous who passed away in March. She added, "It was the perfect week for me."
Unless readers are devoted tennis fans, Rus is merely one of the enduring members of the women's tour. Truth be known, there is a good deal more to her story. As an International Tennis Federation (ITF) competitor, she is in a special category. No player has ever been more effective…Since beginning her circuit career in August 2007 through July of this year, she has entered 46 events, won a phenomenal 32 and been a 14-time finalist.
Hopefully, this provides an "I want to read it…" introduction to the story I wrote long ago… "Rus Was More Than Colorful", exactly on 26th of May 2011.
Kim Clijsters faced Arantxa Rus in the day's opener on Court Philippe Chatrier, and it was expected that Clijsters, the No. 2 seed would have little if any trouble moving to the next round. After all, the contest involved a 27-year-old three-time Grand Slam champion against the 2008 Australian Open Junior Girls' winner who was seven years her junior.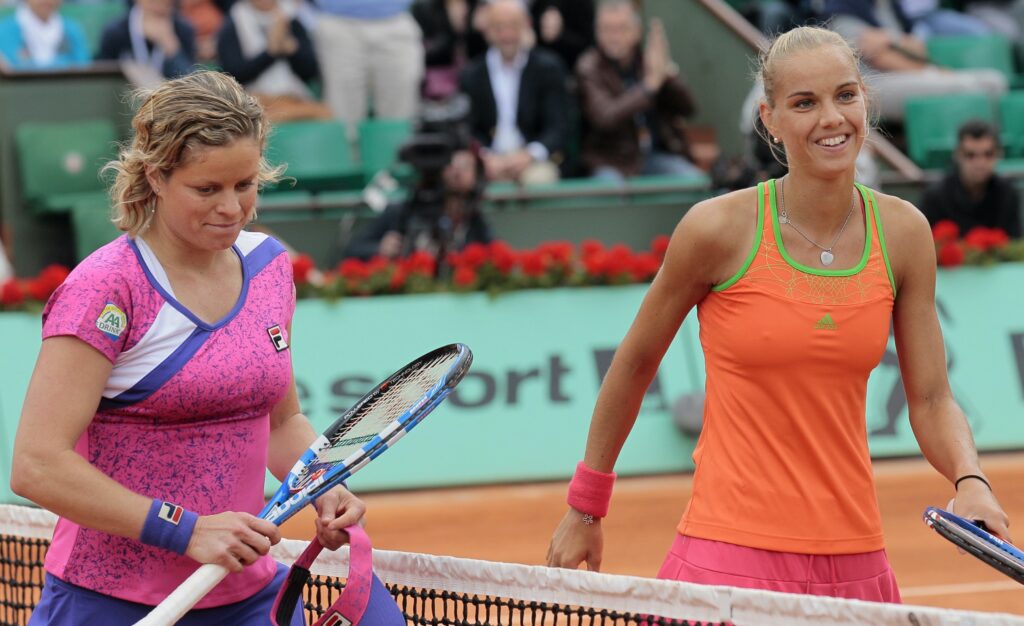 Until the last ball was hit, it appeared the contest matched much more than tennis. It was a water colorist's paradise. Using the "color wheel" found on Google to describe the presentations-Clijsters's wore a Fila electric pink top, with indented royal blue splotches spattered across it along with a matching royal blue skirt, and specially crafted high-top basketball-like shoes (to protect her injured right ankle). Rus' combination was an adidas creation that featured a riveting hot pink top, with a ballet dancer's lavender skirt. Both the top and bottom were bordered by day-glow green basting.
The actual play, on a blustery cold day, showcased filthy carving groundstrokes and imaginative use of the court that brought about sprinter-like shot making dashes. Clijsters, the crafty Belgian, mixed in telling drop shots that forced her gangly left-handed opponent, (who is listed in the WTA player information, which always seems to be a few inches short and a freezer full of beef off on the weight, as being 5'11" [1.80 meters], but she appears to be at least 6'1"), to continually slide-dive during numerous points.
In the end, the lass from Monster, in The Netherlands, was a monster indeed winning 3-6, 7-5, 6-1 to record the first significant Roland Garros upset in this year's women's draw.
Asked what happened, Clijsters said, "I'm still trying to figure that out. She was missing quite a lot in the beginning of the rallies, and I felt that I was moving her around well from side to side.
"Then, I started doubting a little bit. I think on clay for me, that it is definitely the wrong attitude to have. She obviously started building up more confidence, started playing a lot better and was really kind of putting me on my back foot all the time. I couldn't really play my aggressive tennis anymore in that third set."
Admitting that Clijsters was one of her heroes, Rus commented, "I really like to play on the center court. It was the first time. So, in the beginning I was a little bit nervous, and after, I start playing better and better."
She continued, "When I was 5‑2 down in the second set, I was thinking, 'Just go for it and play more aggressive'. And that really helped. At 6‑5 I had a really good serve game, and then I won the set. Then I was thinking, 'Yeah, I can win this match'."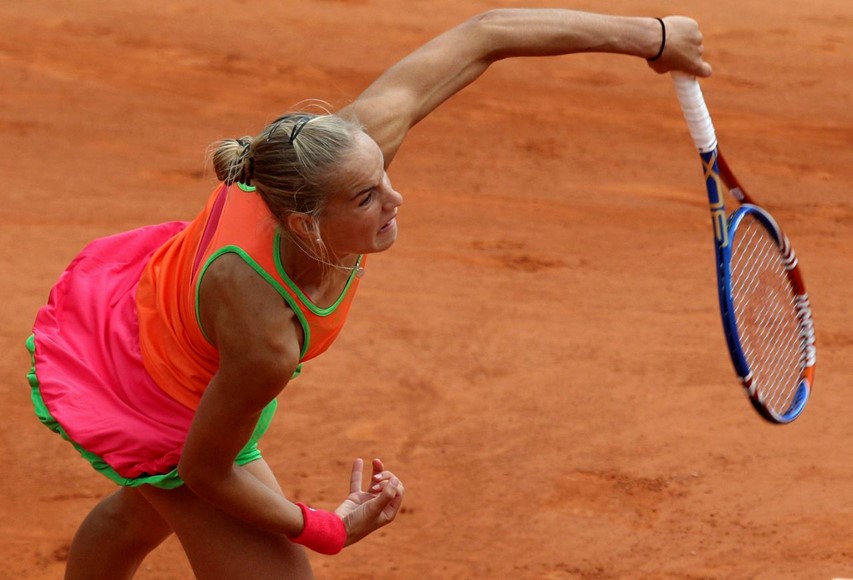 A look at the match statistics is truly revealing. Clijsters clanked 10 double faults and had 65 unforced errors. Her opponent only gave away three double faults and made but 22 unforced mistakes. Overall, she won 101 points to Clijsters' 93. Even more revealing, she was successful on seven of 13 break point chances while the more experienced performer was a frightening five of 17.
While "expect the unexpected" takes place all the time on the court, it also happens off it. In 2007, I was having dinner at one of my favorite spots in the 16th Arrondissement-the Rue Le Village d'Auteuil-and sitting next to me was a friendly couple from the Netherlands. After pleasantries were exchanged, we began talking about a variety of things, including tennis. To my amazement, I discovered that Lous and Judith Rus had two daughters who played. Arantxa, their youngest, (who was given the name not because of Arantxa Sanchez Vicario, but because they liked the sound of it), was playing the Roland Garros Junior Championship.
The next year having won the 2008 Australian Open Junior Girls' title, she was the No. 2 seed in the junior event (and would lose to tournament winner Simona Halep of Romania in the semifinals) … and once again, I had an opportunity to visit with the Rus' at the Rue Le Village d'Auteuil.
It seemed like dinner with the Rus' was becoming a Paris tradition…
In 2012, I saw them after their daughter's 2-6, 6-4, 6-4 first round Women's victory over Marina Erakovic of New Zealand, and Lous said, in the years since we first met, Arantxa had gotten bigger (meaning stronger). The WTA seems (and Rus isn't in their 2012 Media Guide) to use height and weight "guesstimates" for its players. Today's Match Notes said she weighted 143 pounds (65 kilograms). Being kind, the only way she could possibly tip the scale at the listed number is if she were carrying some very heavy racquet bags.
It must also be added that Lous and Judith are a wonderful examples of "Tennis Parenting." They are so low-key that other than watching their daughter compete, they are not involved. In fact, I remember a story about their having Roland Garros Player Guest badges, but not eating in the Players Restaurant because they didn't feel it was proper.
Moving back to the match, Clijsters admitted, "I think overall the conditions were a little bit harder today. There was a lot of wind. The court was a little bit heavier.
She noted the obvious saying, "I was making those double faults more than I would have liked to. With the serve, it all comes down to the ball toss, which always has to be very accurate, always has to be the same. I just kind of felt like I wasn't in control of that today."
Moving on to her opponent's performance, the Bree, Belgium resident was loquacious, "She's a good athlete. I think clay suits her game very well. She has a good left‑hander kick serve, which is always I think a little bit tricky. Physically, she looks strong. She hits a heavy ball on clay, but I think on the hard courts she can still improve a little bit strength‑wise."
As a junior, Rus had a habit of playing her way out of matches. Never afraid to go for shots, her forehand would go off wildly, and she would end up folding mentally. Today, a more mature, more complete (though still shy) Rus was on stage. And she passed the Court Philippe Chatrier test.
"She's a good player," Clijsters said. "Tricky, too, because she hits more with topspin on her forehand and more flat with her backhand, so it's always a little bit tricky to have those kind of opponents."