Skip to content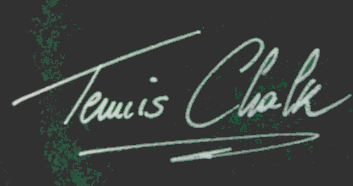 Shots to remember
Tony Trabert – Memories of My Friend – The rise and climax.
As the great Tony Trabert passed away on the last February, Tennis Chalk has the absolute honor to publish his long story, written by Mark Winters, who was probably in life one of the best friends of Tony. In order to keep content readable, enjoyable, and time affordable, Tennis Chalk has split the long article into episodes. The second episode starts from 1952 and culminates with 1955, when Tony reached his climax as tennis player.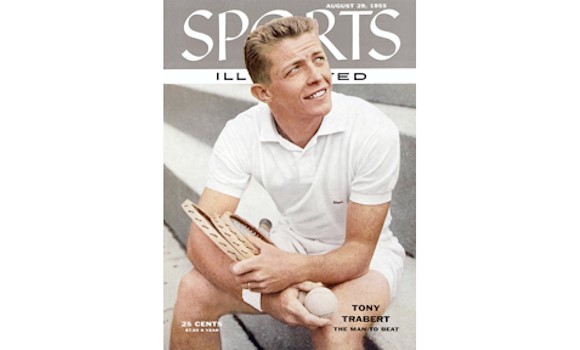 Because the US was involved in the Korean War, Trabert was drafted in September 1951. He spent nearly two years in the US Navy, most of it on the Coral Sea, an aircraft carrier that cruised the Mediterranean for six months during his time with the Navy. He worked as a Captain's Talker on the bridge (relaying orders) but was given liberty to compete at Roland Garros in 1952. (Though he hadn't been playing, he was the No. 5 seed.) In the fourth round, he faced Felicisimo Ampon, who supposedly was 5 feet 3 inches tall, but in reality, was barely five feet. Nonetheless, the No. 12 seed from the Philippines was a dogged competitor and rarely missed. That day, he didn't, and he won, 7-5, 6-1, 6-1.
In late June, Trabert had hoped to play The Championships in London. The Naval Department gave him permission, but the captain wouldn't grant him liberty. Trabert later said that the Coral Sea captain wanted to make sure it was known who was in charge of the ship. (During his time in the Navy, Trabert missed nine of the eleven Grand Slam tournaments that were played.)
He was granted a 30-day furlough during the winter of 1952 to play Davis Cup. In the Inter-Zonal final, played on the grass at White City Stadium in Sydney, December 18-20, Trabert, along with Vic Seixas and Richardson, defeated Italy, 5-0. In the Challenge Round against Australia, it was a completely different story. At Memorial Drive Park, December 29-31, at the grass court complex in Adelaide, the Australian standouts Ken McGregor and Frank Sedgman throttled Trabert and Seixas, 4-1.
This past April, Fred Stolle talked with me from his home in Florida about Trabert, his close friend. "I first met him when I was 13 at the Davis Cup," he said. "I was one of the ball boys and was small, barely came up to the top of the Davis Cup (when the trophy was on its plinth). He always had a kind word for us. He took care of us and even hit a few balls with the kids." (Stolle turned 13 on October 8th that year.)
(At the time, the youngster who went on be nicknamed "Fiery Fred" or simply "Fiery", by his Aussie mates because of his outspoken competitiveness, had no idea that he would have a superlative career that would earn him International Tennis Hall of Fame recognition in 1985.)
In the spring of 1953, Trabert was waiting anxiously to be discharged from the Navy. While "counting down the days…" he focused on doing everything possible to prepare for his return to tennis. Since he was based in San Diego, he was able to garner leave to play "The Ojai" tournament, the oldest tennis competition to take place in one location in the US. It has been staged since 1896 in a picturesque valley filled with orange and avocado groves. The city (Ojai) is north of Los Angeles and inland from the coastal town of Ventura.
Trabert added his name to an illustrious list of Men's Open Invitational Singles winners that included Bill Tilden, Ellsworth Vines, Jack Kramer and Richard "Pancho" Gonzalez. He defeated Herb Flam then teamed with Bill Crosby to down a brothers' tandem, Clyde and Glenn Hippenstiel in the Men's Open Invitational Doubles final. (In 1971, he staged a "home coming" of sorts when he established the Tony Trabert Tennis Camp at The Thacher School in Ojai.)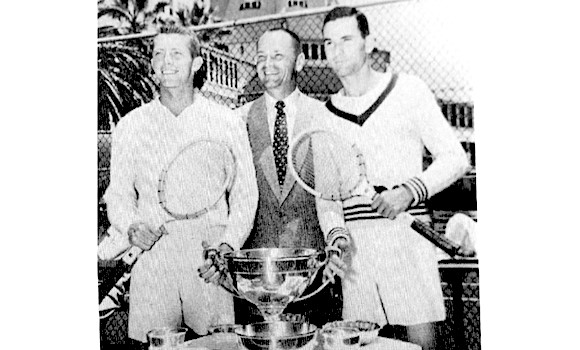 Two months later, he was granted leave to participate in the USLTA National Men's Hard Court Championships, June 7 – 13, at the Salt Lake Tennis Club. Unranked in 1952 because his military obligation didn't allow him to play many tournaments, Trabert defeated US No. 8, Tom Brown in the singles final, 6-4, 11-9, 6-4. The two then teamed up to win the doubles.
Not only was he a winner on court, he enjoyed more success off it. As a long-time friend of mine explained, "I was running the tournament for David Freed. We had asked girls from the University of Utah, such as Sweethearts of Sigma Chi, etc. to be hostesses and ushers. Shauna (Wood), whom I only knew to say 'hi' to at the University, had just become Miss Utah. (She would go on to represent the state in the Miss Universe contest.) I seized the opportunity to get a publicity picture and arranged for a photo of Tony and Shauna, which I still have, with the caption 'Mr. International Tennis player meets Miss Utah'. It was love at first sight."
She continued, "There were rain delays during play, so they had time to visit and talk. After the tournament (and dates with Tony over that weekend), she began calling me asking what I knew about Tony and about tennis.
"They saw each other again in Long Beach (California) where the Miss Universe contest was held. Shauna talked her chaperon into letting her eat alone with Tony. Their telephone calls started.
The next time I saw Tony, after he had been discharged, was in Chicago at the 1953 USLTA National Clay Courts Championships in August. That was when I learned he had invited her to come to the tournament (in New York). Her father said she could go, but only if I went with her. I did not know Shauna that well until that time."
(The USLTA National Championships was played at the West Side Tennis Club in Forest Hills, New York from August 29th until September 7th. Trabert realized his "release from the Navy goal" by being ready for the nationals. In the men's final, he defeated Seixas, 6-3, 6-2, 6-3 for his first Grand Slam singles trophy.)
My friend added, "Their telephone courtship started at the end of July. They got engaged at the Nationals in New York and were married October 26th at the Salt Lake Country Club. The reason for the quick wedding was because Tony was going to Australia for the Australian Championships (January 22 – February 1) and if they were not married, they would have been apart for months."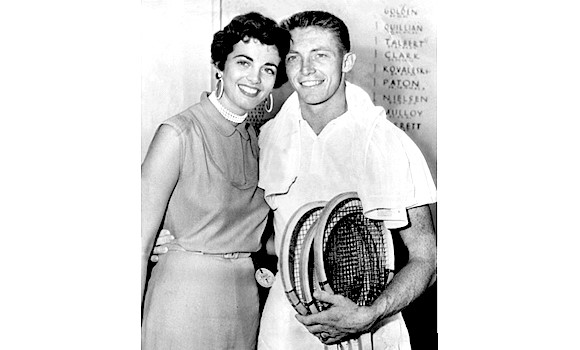 The fact he finished the year No. 1 in the Men's US rankings made 1953 even more special and established a high level of expectation for the coming season.
Unfortunately, things didn't get off to a great start. Trabert was seeded No. 2 at the 1954 Australian Championships but he lost to the tricky No. 13 seed, John Bromwich in the second round. After dropping the first two sets, 6-1, 6-1, the Australian, buoyed by the home-crowd's loud support, used his creative shot making that was bolstered by a telling two-hand backhand to dice through his opponent taking the next three sets, 6-2, 6-3, 6-1. (Years later, Trabert admitted the crowd's bias bothered him.)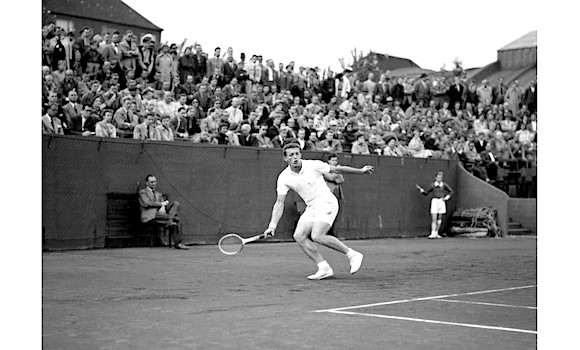 Roland Garros was an altogether different matter. Seeded No. 2 he was too strong for Art Larsen, defeating the No. 12 seed, 6-4, 7-5, 6-l in the singles final to earn the La Coupe des Mousquetaires. He added the Jacques Brugnon Cup to his Paris trophy collection when he and Seixas swept past Lew Hoad and Ken Rosewall, 6-4, 6-2, 6-1.
In London, No. 3 seed Rosewall toughed out a 3-6, 6-3, 4-6, 6-1, 6-1 win over Wimbledon top seed Trabert in the semifinals. In a No. 1 Australia versus No. 2 US doubles final, Rex Hartwig and Mervyn Rose downed Trabert and Seixas, 6-4, 6-4, 3-6, 6-4.
The defending singles champion and No. 1 seed, Trabert was surprised in the US National quarterfinals by Hartwig, the No. 8 seed, 6-2, 8-6, 2-6, 6-2. In a duplicate of the Paris outcome (with a different score), he and Seixas again defeated Hoad and Rosewall, 3-6, 6-4, 8-6, 6-3 in the doubles final.
The highlight in what had been an ordinary year for Trabert took place in the Challenge Round on the grass courts of White City Stadium in Sydney on December 27-29. (Years later he admitted that, on and off, during the season he had problems with a blister on his right [racquet] hand and on both feet.) Prior to the start of the competition, celebrated Australian Davis Cup captain Harry Hopman told United Press, on December 20, 1954, that Trabert was the No. 1 threat to Australia holding on to the Davis Cup, adding, "While I stick by my predictions that Australia will beat America, 4-1…I cannot overlook the menace this boy poses".
The outcome was more than menacing. The tie was over in two days. Trabert kicked off play, downing Hoad, 6-4, 2-6, 12-10, 6-3. Seixas duplicated his teammate's four-set success defeating Rosewall, 8-6, 6-8, 6-4, 6-3. In keeping with the "Four-Set" tie theme, the US duo brought the Cup home with a 6-2, 4-6, 6-2, 10-8 victory over the Australian tandem.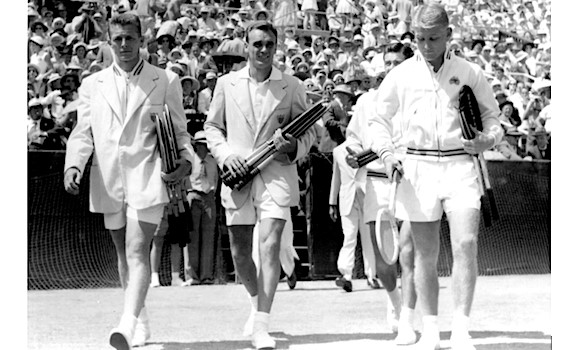 Australia made the score appear closer winning both of the "dead matches" as Rosewall defeated Trabert in three sets while Hartwig triumphed over Seixas in four to make the final score 3-2.
(On the first day, a record of 25,578 spectators attended the matches. John Barrett, a former Great Britain player, Davis Cup captain and the long-time dignified BBC voice of Wimbledon, who became a member of the International Tennis Hall of Fame in 2014, was in Australia to compete in the upcoming Australian National Championships. He remembered that temporary seats were added to the corners of the White City Stadium Court that "towered up to a terrific height…it was an amazing sight". The US – Australia Davis Cup Final crowd record stood for 50 years until the last day of Spain's 3-2 victory over the US in 2004, when there were 27, 200 on hand at Estadio Olimpico in Barcelona. Ten years later that total was surpassed, on the first day of the tie, when 27,488 watched. Switzerland ended up defeating France 3-1 at Stade Pierre-Mauroy, Villeneuve-d'Ascq, France. The record was equaled on the final day of the 2017 Davis Cup when France edged Belgium, 3-2 at the same facility.)

The 1955 Australian National Championships began on January 21st and concluded January 31st. Though it was long after the fact, Trabert explained that of all his on-court successes, the White City victory was the most meaningful. He candidly added that the US players were "drained" and [he] wished that they weren't competing in the first major of the New Year, 23 days after winning the Davis Cup Challenge Round.
"Being weary" (physically and more telling, emotionally) makes even more sense because of the regularly overlooked fact that the US had to contest the Inter-Zonal Final at the Milton Courts (grass) in Brisbane, December 16th – 18th. Trabert, Seixas and Richardson whitewashed Sweden (Lennart Bergelin and Sven Davidson), 5-0. Playing top tennis, after traveling to Australia, was always testing and taxing; particularly, considering that it took the US squad 50 hours (five 10-hour hops) to arrive there. (They ended up spending so much time in the country that had they wanted to, they could have looked into qualifying for citizenship.)
Since readers have been flooded with "Trabert Facts", I will not go into great detail concerning the Australian National Championships singles outcome at the Memorial Drive courts in Adelaide. Rosewall, the No. 1 seed, defeated Trabert, the No. 4, seed, 8-6, 6-3, 6-3 in the semifinals. Having been the 1953 tournament winner, he picked up his second "home" victory stopping Hoad, the No. 5 seed, 9-7, 6-4, 6-4, in the singles final. Trabert and Seixas outlasted the "Aussie twins—Hoad and Rosewall", as they were sometimes called, 6-3, 6-2, 2-6, 3-6, 6-1 for doubles honors.
From that point on, the 24-year-old (who would turn 25 on August 16th) had one of the best competitive years ever. In Paris, the top seed defended the title he won the year before downing the No. 11 seed Sven Davidson of Sweden, 2-6, 6-1, 6-4, 6-2. He and Seixas again won Roland Garros doubles, this time subduing the Italian tandem, Nicola Pietrangeli and Orlando Sirola, 6-1, 4-6, 6-2, 6-4.
The Championships in London was the next major and Trabert lived up to being the No. 1 seed. In the singles final, he defeated tournament surprise, the unseeded Dane, Kurt Nielsen, 6-3, 7-5, 6-1.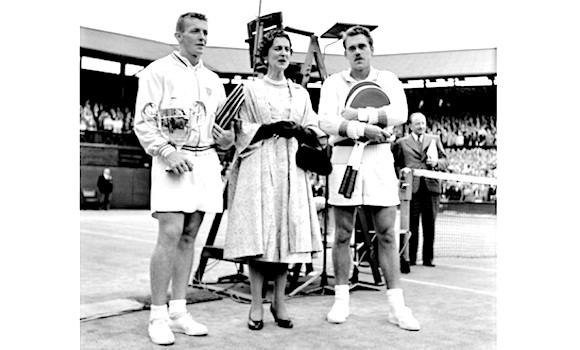 In his must read "Tony Trabert Obituary" in The Guardian on February 7, 2021, Richard Evans, said of the match, "In his widely acclaimed memoir 'A Handful of Summers', the South African player Gordon Forbes describes Trabert's year. 'He was unbelievably all-American. Open faced, smiling wide, freckles and a brush-cut. And [he had] massive groundstrokes that came at you like hurled medicine balls. He'd beaten Kurt Nielsen in the Wimbledon final that year. 'It was like a tank moving infantry, Forbesey,' said Abe Segal [Forbes's doubles partner].
'Trabert was driving the tank. Nielsen machine-gunned him but the bullets just bounced off!"
Neale Fraser and Rosewall, the No. 3 seeded Australian duo, downed the top seeds, Trabert and Seixas, 6-2, 1-6, 6-1, 4-6, 6-3 in the doubles semifinals. (Fraser and Rosewall lost in straight sets to Hartwig and Hoad in the final.)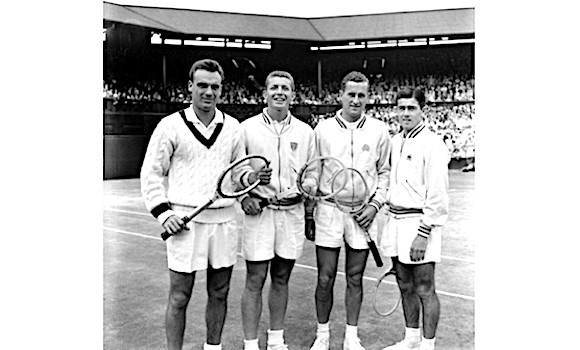 Prior to the US National Championships, September 2nd -11th, Trabert was on the August 29, 1955, cover of Sports Illustrated. The caption read, "Tony Trabert – The Man To Beat". The revealing feature was written by Whitney Tower. In the piece, Trabert talked about being proud of the hard work he had done to become a champion, quickly adding that he was grateful for the help his dad (Arch) and Talbert had given him over the years. He candidly remembered the only time he ever thought about quitting tennis was on his 18th birthday (August 16, 1948) when he played his first grass court match at the Newport Casino Invitational, in Newport, Rhode Island and lost to Chauncey Steele of Cambridge, Massachusetts and thought he would never be able to play on the surface.
Because of the success he was having in 1955, there was talk that Trabert had become overconfident, but before the Nationals he explained to Tower that he had "constructive confidence" and was well aware of his capabilities and limitations. He added that his winning didn't make him lackadaisical and a prime candidate to be upset. "…I approach each tournament and each individual match as though it was the last and most important one, I'm going to play."
That's the way he played at Forest Hills. In a No.1 seed against No. 2 seed final, Trabert closed out a magnificent year by disposing of Rosewall, who had been the one who besmirched his Grand Slam hopes that past January in Australia, 9-7, 6-3, 6-3.
Ordinally, Google is a handy validation tool. In the case of Trabert's 106-7 singles match record in 1955 being the best in the game's history, the Internet giant didn't answer the question. Nonetheless, Trabert put up unrivaled numbers including 18 singles and 12 doubles titles: a 38 match, along with a 10 straight tournament win streak.
At both Wimbledon and the US Nationals he was impeccable, not losing a set in either tournament. (To better understand what Trabert accomplished in better perspective it must be noted that matches for the most part in those days, were the best three out of five sets in both singles and doubles which speaks to his physical and mental prowess.)
Before social media drove tennis acclaim and fame, respect was earned on the court. Gardnar Mulloy, who was lauded after having been ranked in the US Top Ten for 15 years (beginning in 1939), wrote in the October 1955 issue of World Tennis Magazine, that Trabert was "sounder than Hoad and more dominating than Rosewall. He has had a completely astonishing record this year, losing only one big match and two lesser ones".