Skip to content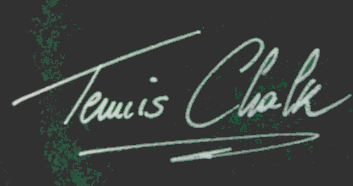 Shots to remember
Tony Trabert – Memories of My Friend – Davis Cup Captain and Coach
As the great Tony Trabert passed away on the last February, Tennis Chalk has the absolute honor to publish his long story, written by Mark Winters, who was probably in life one of the best friends of Tony. In order to keep content readable, enjoyable, and time affordable, Tennis Chalk has split the long article into episodes. The fifth episode is focused on activity as Davis Cup Captain and as coach of tennis players. It spans roughly from 1976 until 1981.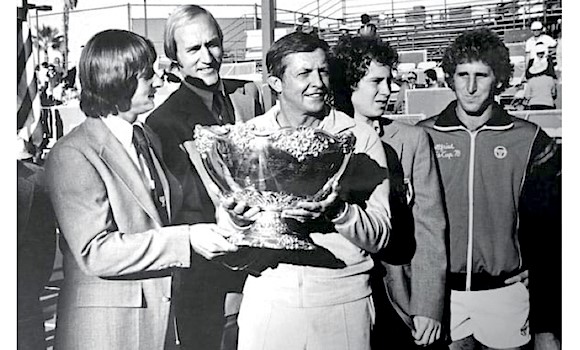 From 1976 to 1980 Trabert served as Davis Cup captain, but he also served as playing captain in the 1953 US 5-0 defeat of Japan. His debut took place at the Margaret Court Racquet Club Ranch, in Tucson, Arizona. Fred Stolle, whose pro career was winding down, was the Director of Tennis at the club. He and his wife, Pat set the "hosting" a big tennis event Gold Standard entertaining those who were on hand for the Davis Cup.
Stolle is an Aussie to the core. In Tucson, he was a wonderful raconteur with a rich and occasionally sarcastic sense of humor. Looking back, he remembered that the club had 30 lighted courts and that the site had been the home of the American Airlines Tennis Games in 1974 and '75. Late in the afternoon when it was "cocktail time" the clubhouse windows offered a spectacular view of the countryside. Surrounded by mountains on three sides, the sunsets were always picturesque. He reminded me that those were the days of "clinics…where you could learn to play in 15 minutes…" Another recollection was that Foster's came in cans that were the size of those that contained Valvoline Oil.
He has fond memories of Tucson not only for the good times he had, but, more important, for the array of friends he made. "Those were the days…" he concluded.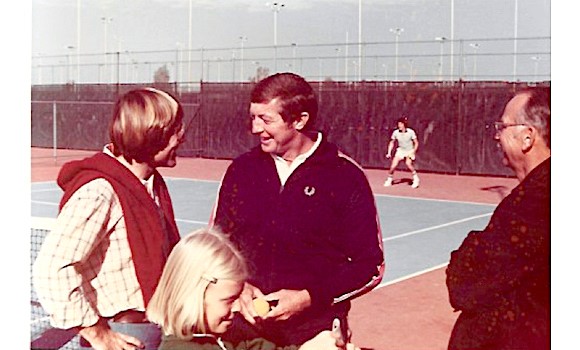 In his initial Davis Cup tie, Trabert's team defeated Venezuela 5-0. Round II was not as fortuitous. The US lost to Mexico 3-2 at Estadio Rafael Osuna in Mexico City on clay. For me, it was another, being in the right place at the right time because, since the meeting, Stolle has become a friend.
In all my dealings with Trabert, it is hard to remember an instance when I saw him get angry. April 16, 1977, was one of the few exceptions. The US was playing South Africa at the Newport Beach Tennis Club, in Newport Beach, California. For many it wasn't a question of winning a Davis Cup tie, (which the US did, 4-1), it was tennis facing off against apartheid.
There were banner and poster waving protestors all three days. On Saturday, security was breeched. Two individuals jumped a tiny entrance gate and ran on the court during the third set of Bob Lutz and Stan Smith's, 7-5, 6-1, 3-6, 6-3 victory over the South Africans, Byron Bertram and Frew McMillan. They spilled oil on the court that took just short of an hour to clean up.
I watched Trabert as soon as it became clear what was taking place. He grabbed his C-6 Tony Trabert Graphite Racquet and went after the invaders. (Never before, during his time as captain, had he taken his racquet on court with him.) He clubbed one of the men while the police wrestled with the other. Once the skirmish ended. both individuals were handcuffed and taken to jail.
Prior to the tie there had been discussions between USTA officials and those organizing the event about the boycott efforts that were expected, along with worries about physical threats that could result. Both Hester and Trabert made it quite clear that neither they, nor other administrators in game, supported the apartheid practices found in South Africa. But the country had a right to participate in Davis Cup play. Following the doubles match, Trabert said he reacted as he did because he had players on court and would do anything necessary to protect them…
The 1977 Davis Cup campaign ended at the Buenos Aires Lawn Tennis Club where Argentina defeated the US, 3-2, on clay.
Three years earlier, during the 1974 Tony Trabert Tennis Camp season, we had occasionally talked about the Watergate investigation. When President Richard Nixon finally resigned on August 8th, Trabert's reaction was "Tony True". He was most disturbed by what it meant – For the country. How would the US handle what was taking place? Long before "America First", became a tainted bully-banner for racism, he admitted winning the 1954 Davis Cup was his most cherished accomplishment because it was a triumph for America. Being responsible, ethical and accountable were part and parcel of his character. That's why his reaction to the oil spilling didn't bring about a raving rant. What had taken place was wrong and that was all that he had needed to say…
Trabert played on five Davis Cup teams and the 1954 squad was victorious. In five years as the US captain, he piloted teams to two triumphs. The first was in 1978.
Living in Southern California almost every tennis location is "drivable". The time it took to get to Newport Beach was almost the same time it required to reach Mission Hills Country Club in Rancho Mirage. The location, which was the original home of the men's tournament that has become the BNP Paribas Open, was the December 8-10 site of the US – Great Britain 1978 Davis Cup final. The only drama in the 4-1 British "skunking" was Buster Mottram's Lazarus recovery from two sets down to defeat Brian Gottfried in the second match of the tie. The contrast was jarring. Mottram, a provocative talent who was an alt-right supporter before that ideology came into dubious vogue, after leaving the game, went on to become a very successful professional bridge player. He staggered back to claim a 4-6, 2-6, 10-8, 6-4, 6-3 victory over the resolute Gottfried. It was an almost five – hour contest on a very quick hard court.
Lutz and Smith were straight set winners in the doubles and so was Gottfried in his second match. But this was incidental because of John McEnroe's performance. In two contests, he only lost a mere Davis Cup record setting 10 games (against John Lloyd and Mottram).
As defending champions, the US was up to the test the next year. Throughout his career, Trabert admitted his most bitter defeat took place in Kooyong Stadium in Melbourne, in the 1953 Davis Cup final. He had taken the first two sets but Hoad roared back to claim a 11-13, 3-6, 6-2, 6-3, 7-5 decision. In 1979, a sort of a Deja vu all over again took place at White City Stadium in Sydney. He and Seixas won the cherished trophy there in '54.
In 1979, Trabert's lads were 4-1 better than Australia in the Inter-Zonal semifinal. The most noteworthy result was Vitas Gerulaitis of the US taking a page from Mottram and staging a comeback by defeating Australia's Mark Edmondson in the first match, 6-8, 14-16, 10-8, 6-3, 6-3.
The US faced Italy in the December 14th – 16th final at the Civic Auditorium, in San Francisco. On indoor carpet, Italy was crushed 5-0. The victory made his record 14-3 and it would be the final time Trabert would serve as team captain.
When he was introduced as the new Davis Cup captain in September 1975, Trabert talked about increasing awareness and hopefully the status of the competition that was being pillaged by tennis politics, moneyed interests and players' increasing self-importance. He and Seixas had defined "team" and he hoped to modernize the concept…trying to do that finally became too much. As Evans said in his Guardian article, "From 1976 to 1980 Trabert led his country to two Davis Cup triumphs as captain – one against Britain in the final at Mission Hills, California – before he started to find the generation gap between a very young John McEnroe and himself a little too wide for his liking".
Leaving the Davis Cup captaincy didn't mean that Trabert, all of a sudden, had a lot of time on his hands. In fact, he became more occupied. Through the mid-1980s, his summer tennis camp was still a sensation. But that doesn't tell the actual story. The three three-week sessions, each with 90 youngsters attending, constantly sold out. As the game's popularity continued to grow, so did his opportunities to provide insight for US Open, Roland Garros and Wimbledon television viewers.
When he was describing what was taking place in a match, he was succinct. I am always reminded when I hear commentators who seem to be paid "by the word" of what he told me long ago – "Let the point tell the story…"
When he was describing what was taking place in a match, he was succinct. I am always reminded when I hear commentators who seem to be paid "by the word" of what he told me long ago – "Let the point tell the story…"
In "Tuning in to Mary Carillo", a March 31, 2021, story by Mark Preston on the website usta.com, the widely respected sportscaster, discussed her career influences. She told Preston, "Well, I was lucky, because I had listened for many, many years to Tony Trabert and Pat Summerall [of CBS]. To me, those were the voices of tennis—and they were minimalists. They just sort of let the match come to them. So, when I got to sit next to those guys, that was something special. And I learned that if you open your mouth, it better be worth something."
David May II, the scion of the May Department Store Company was not only a millionaire, he was a tennis fanatic. All six of his children were immersed in the game. During the early 1970s, before he became US Davis Cup captain, Trabert began working with Kathy May when she was 15.
When I was preparing the dinner program biographies for the 2011 Southern California Tennis Hall of Fame, I called Trabert because May, along with Billie Jean King, Pat Canning Todd, Dorothy Head Knode, Franklin Johnson, Dick Leach, Billy Martin and Hugh Stewart, was being honored. He said, "I went to her house (in Beverly Hills) almost every day. There was a court in the backyard, so it was easy to practice. When I first saw her, Kathy had good ground strokes, but she didn't serve that well and the only time she went to the net was to shake hands after she won a match."
Trabert was rarely acknowledged `for his ability to develop talent and help an individual become a complete player. He accomplished the task with May, who is also the mother of professional tennis player Taylor Fritz.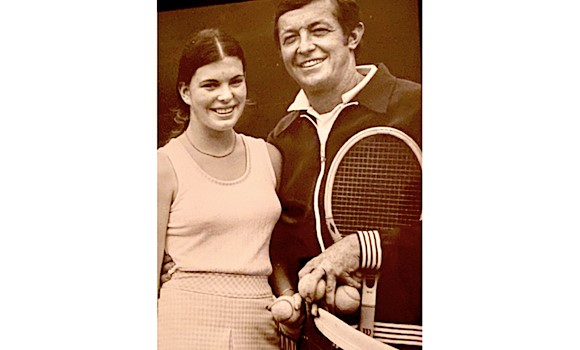 "She worked on her serve and getting to the net," he pointed out. "During practice, I would encourage her to try different things, like serving and coming in. She would get passed and wanted to stay at the baseline because she was so comfortable hitting groundstrokes. But she continued to work on her serve and volley and in time, it became second nature."
Trabert, tongue in cheek, added, "David, once said, that 'I don't know if she needs you, but I sure do'."
Before injuries brought her career to an end in 1980 at 24, she was a quarterfinalist at Roland Garros (twice) and the US Open once. She was ranked as high as No. 8 in the world and had victories over Martina Navratilova, Wendy Turnbull and Virginia Wade.
Over the years, I was fortunate to be able to participate in many of the workout sessions at May's home. Because of the crème de la crème practice setting, tour names such as Chris Evert regularly showed up. One afternoon I saw the game's future and didn't realize it at the time. The player was a stocky lefthander who "punished" every shot. She didn't have much to say but her playing approach was eye-catching. It was my introduction to Martina Navratilova.