Skip to content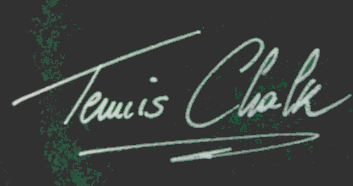 Shots to remember
Being Pac-Man Charlie !!!
Having tried to condensate the marvelous 2022 season of Carlos Alcaraz, nicknamed Charlie, into one of the most famous and iconic videogame of the eighties, our hope is that the outcome will be a nice and pleasant article, useful for smiling.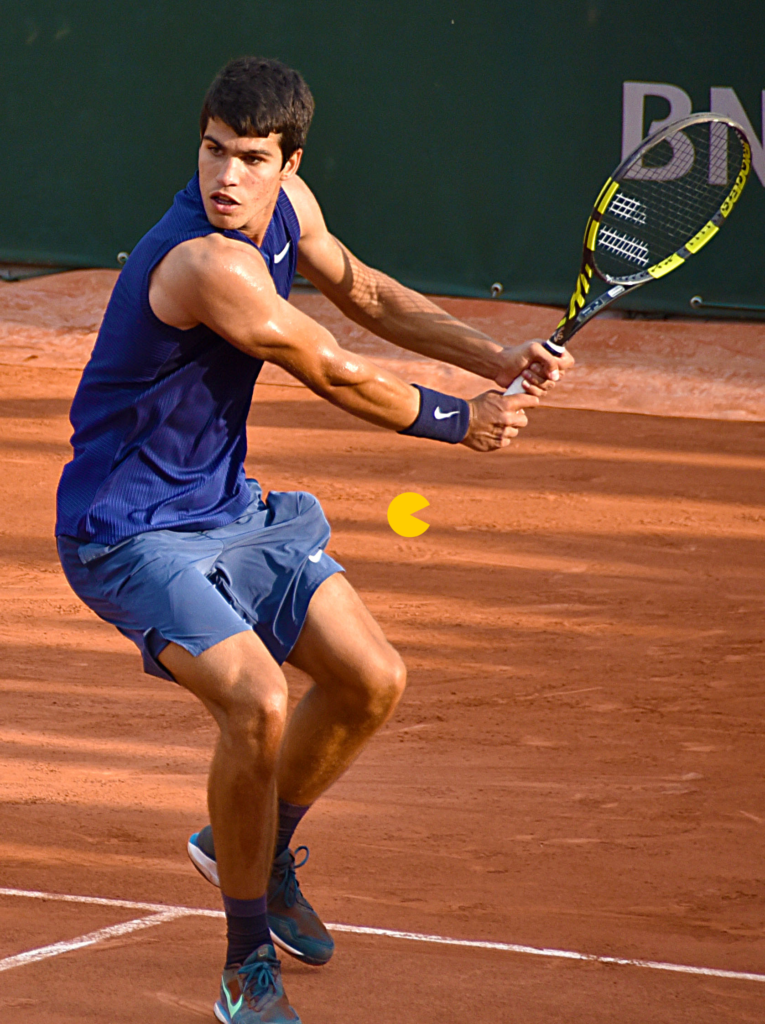 Pac-Man, originally called Puck Man in Japan, is a 1980 maze action video game developed and released by Namco for arcades. In North America, the game was released by Midway Manufacturing as part of its licensing agreement with Namco America. The player controls Pac-Man, who must eat all the dots inside an enclosed maze while avoiding four colored ghosts. Eating large flashing dots called "Power Pellets" causes the ghosts to temporarily turn blue, allowing Pac-Man to eat them for bonus points.
Game development began in early 1979, directed by Toru Iwatani with a nine-men team. Iwatani wanted to create a game that could appeal to women as well as men, because most video games of the time had themes of war or sports. Although the inspiration for the Pac-Man character was the image of a pizza with a slice removed, Iwatani has said, he also rounded out the Japanese character for mouth, from the Japanese word "kuchi". The in-game characters were made to be cute and colorful to appeal to younger players. The original Japanese title of Puck Man was derived from the titular character's hockey puck–like shape; the title was changed for the North American release to mitigate verbal vandalism.
Pac-Man was a widespread critical and commercial success, leading to several sequels, merchandise, and two television series, as well as a hit single by Buckner & Garcia. The character of Pac-Man is now the mascot and flagship icon of Bandai Namco Entertainment. The game remains one of the highest-grossing and best-selling games, generating more than $14 billion in revenue (as of 2016) and 43 million units in sales combined, and has an enduring commercial and cultural legacy, commonly listed as one of the greatest video games of all time. (Wikipedia)
Thinking deeply in our daily life, Pac-Man is involuntary played by us at least once per week, whenever we go to a supermarket or commercial center and we get lost along the endless corridors of a grocery and general store. By buying useful food for our lives, points are marked, but whenever we meet known and unpleasant people, we face physical ghosts, who actually deviate our attention . Or ghosts can reside in our minds, when we forget what to buy, and we look for randomly the required item, by walking again along the same corridors, doing another turn. And the game is definitely over, once we exit from the labyrinthine grocery store.
Summarizing 2022 Alcaraz's season in Pac-Man.
It was not easy to conceive such crazy idea and I was undoubtedly helped by Adam, whose tutorial was essential to learn a little bit of logic related to game development. In fact I am honest with myself, when I say that all the logic of the videogame, written in JavaScript comes from Adam brilliant tutorial, having done myself only some "cosmetics operations", mainly related to choosing colors, images and fonts. Therefore I also put here the link to Adam youtube channel, in case someone would like to learn how to develop games not only using JavaScript paired with Visual Studio Code, but even more things related.
But coming back to our Charlie, we are able now to disclose the first feature, called "Charlie Win!". This happened, often during 2022 tennis season. In the original version, the objective of the game is to eat all of the dots placed in the maze while avoiding four colored ghosts that pursue Pac-Man. Placed at the four corners of the maze there are large flashing "energizers" or "power pellets". Eating these will cause the ghosts to turn blue with a dizzied expression and to reverse direction.
In my special version I have replaced "energizers" or "power pellets" with trophies, the ghosts own the same color and have been increased to seven, the maximum number of opponents met in a Grand Slam tournament. Once Pac-Man Charlie eat the ghosts, they are not regenerated like in the original version. By winning Rio de Janeiro, Miami, Barcelona, Madrid, US Open, it must be stated that Charlie has won the game, accumulating 5 trophies.
On the other hand, at the same time, the second feature is about losing matches against opponents met in tennis tournaments, played during the 2022 season. As said before, within the game ghosts play a decisive role to sabotage Pac-Man mission. In the original version, there were four colored ghosts — Blinky (red), Pinky (pink), Inky (cyan), and Clyde (orange) — that pursue Pac-Man. If Pac-Man is caught by a ghost, he will lose a life. In my version there is not yet loss of lives, but simply a "Game Over" feature.
The trickiest ghosts for Pac-Man Charlie have proved to be Italian tennis players. In fact Sinner twice, Berrettini and Musetti, were able to beat Charlie during the season, ratifying defeats. Nevertheless the balance between Charlie and Italian tennis players stays to 4-4. The candidates to play the role of Clyde, supposed to be the most complicated opponent for Charlie, are the only ones who can claim a positive balance Win/Loss against Charlie, as the below table shows.
| | | | |
| --- | --- | --- | --- |
| Player | Victories | Defeats | Seq Nr Defeat |
| Jannik Sinner | 1 | 2 | 5 and 7 |
| Lorenzo Musetti | 0 | 1 | 6 |
| Tommy Paul | 0 | 1 | 8 |
| Felix Auger Aliassime | 0 | 2 | 10 and 12 |
| David Goffin | 0 | 1 | 11 |
| Holger Rune | 0 | 1 | 13 |
Players with a positive balance against Carlos Alcaraz during the 2022 season.
The Canadian Augier Aliassime has so far always defeated Charlie, but also Sinner was able to beat him twice and to waste a match point in the QF of US Open. So both are valid candidates to play the role of Clyde.
Another important detail is that 10 out of the 13 defeats, recorded by Charlie, were suffered during extremely fought matches. However after winning US Open, Charlie has shown signs of tiredness and strain, recording just a meager 6-4 balance between victories and defeats. Moreover due to the injury Charlie suffered at Paris Bercy, when he was defeated by Holger Rune, he has not been able playing the ATP Finals in Turin.
Final Ranking for season 2022.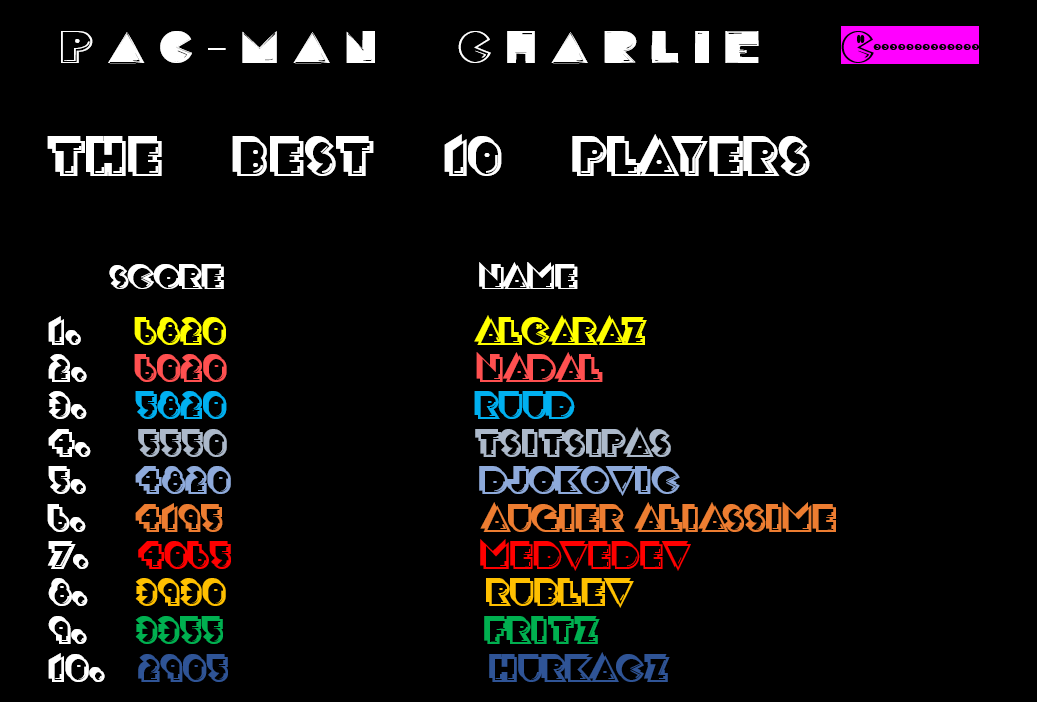 The final ranking at the end of the year shows Alcaraz closing the year with 6820, despite he missed the final event in Turin. In the end Charlie must thank Novak Djokovic, Felix Auger Aliassime and Taylor Fritz, capable to stop his opponents, but it is definitely believed that season 2022 has gained a true and worthy number one, who has recorded an impressive record of 57-13, (81,4 percentage of victories).
Please press "Continue" for playing 2023 season or "Exit".
Finally, season 2023 is coming, with a lot of questions.
Will Alcaraz be able to confirm himself in 2023, recovering from the bad injury suffered at the end of season?
Who will be the most dangerous contender?
Will Charlie be capable to improve furtherly his style?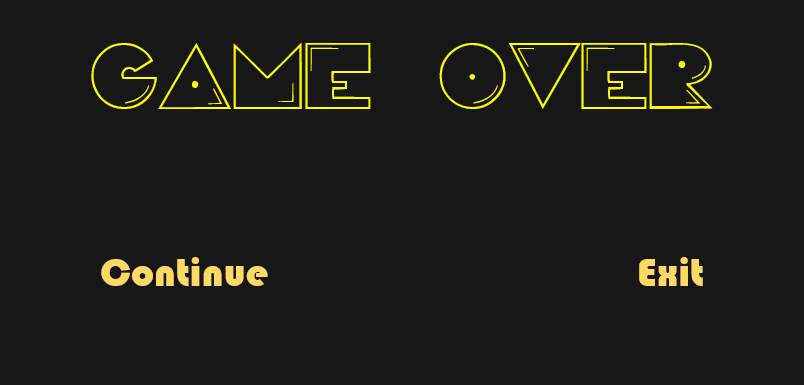 So all players are invited to continue playing or exit the "game" or better said the tour. You can play the game at the following link , but be sure to run the game from a device with a joystick or the arrow keys of your computer. But be careful not playing any game in a Voodoos style with our hero, since he has already suffered a serious injury in the final months of the season.
Please do not forget to leave a comment, if you have appreciated this article.