Skip to content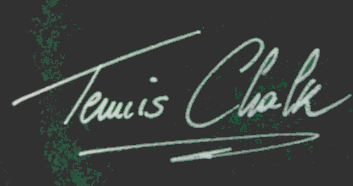 Shots to remember
Darlene Hard… Should Forever Be Remembered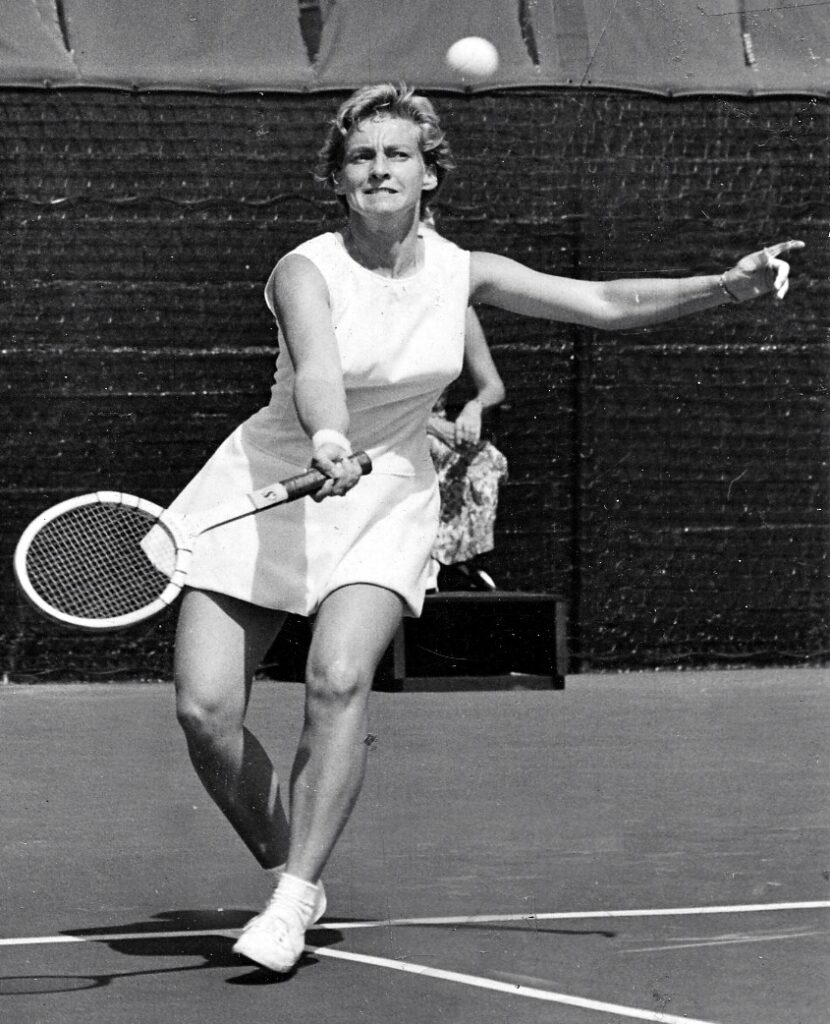 Learning that Darlene Hard had passed away at Northridge Hospital, (in the California city of the same name), on December 2, 2021 after falling, hitting her head, going into a coma and never awakening, I realized that the game lost its own "Grete Garbo". While famously known for supposedly saying, "I want to be alone", the fabled Swedish/American actress set the record straight in a Life Magazine story in 1955. Having always done her utmost to avoid attention, Garbo pointed out, "I only said, 'I want to be let alone!' There is all the difference."
On July 13, 2007, Hard was inducted into the Southern California Tennis Hall of Fame at a gala dinner held at the Four Seasons Hotel in Beverly Hills, along with Gertrude "Gussy" Moran, Charlie Pasarell, Dennis Ralston, Ted Schroeder and Pam Shriver (who didn't grow up locally). I was responsible for writing the honorees biographies for the dinner program. Schroeder, who was always a test to interview, had passed away in 2006. Moran didn't want to have anything to do with the affair. Hard was borderline taciturn.
Mary Lou Maxwell and Darlene Hard following a Southern California Girls' Junior Sectional Championship final. Photo Thelner Hoover
Darlene Hard volleying at the Los Angeles Tennis Club. Photo Thelner Hoover
Darlene Hard (wearing her Pomona College jacket) and Jeanne Arth after winning their first US National Women's Doubles title in 1958.
Jeanne Arth, Hazel Wightman and Darlene Hard following their 1959 US National Women's Doubles victory. Photos Mark Winters Collection
When I was finally able to track her down, she was "Darlene in publications…" at the University of Southern California, where she had worked since 1981. Our telephone chats were pleasant but she never was effusive about her career successes. She was, though, quite clear that she would not attend the induction ceremony.
Hard grew up in Montebello (which is Spanish for "Beautiful Mountain"). Her mother Ruth taught her to play on public tennis courts in the city. A talented, aggressive player, even as a youngster, she became an accomplished junior tournament performer which drew attention and led Southern California tennis officials to offer her an opportunity to practice regularly at the Los Angeles Tennis Club. (In those days, it was referred to as the "Home of Champions".) As is occasionally the case, good fortune can be accompanied by a trial to achieve it. For Hard, it was the two-hour bus ride from her home to the club.
Undeterred by the dreary travel routine, in 1954, at the age of 18, she was a US National Women's Singles semifinalist losing to eventual champion Louise Brough. A year later, she reached the same round at The Championships, in London, again losing to Brough, the tournament winner. These results merely set the stage for what was to come. Initially, she put tennis on hold to attend Pomona College with the intent of becoming a pediatrician. But tennis proved to be an easier study than medicine.
At Roland Garros in 1957 Hard teamed with Shirley Bloomer, the Brit who some believe had the game's most distinctive family, to win the Roland Garros Women's Doubles. She followed up her Paris showing by becoming the finalist at The Championships to Althea Gibson. The singles opponents joined forces to win the Ladies' Doubles.
In 1958, she was stellar. Competing for Pomona College, she was the winner of the inaugural Intercollegiate Women's Singles championship. Hard and Jeanne Arth won the first of their back-to-back US National Doubles trophies in 1958. Prior to their follow-up 1959 Forest Hills title, they were the Ladies' winners at the All England Lawn Tennis Club.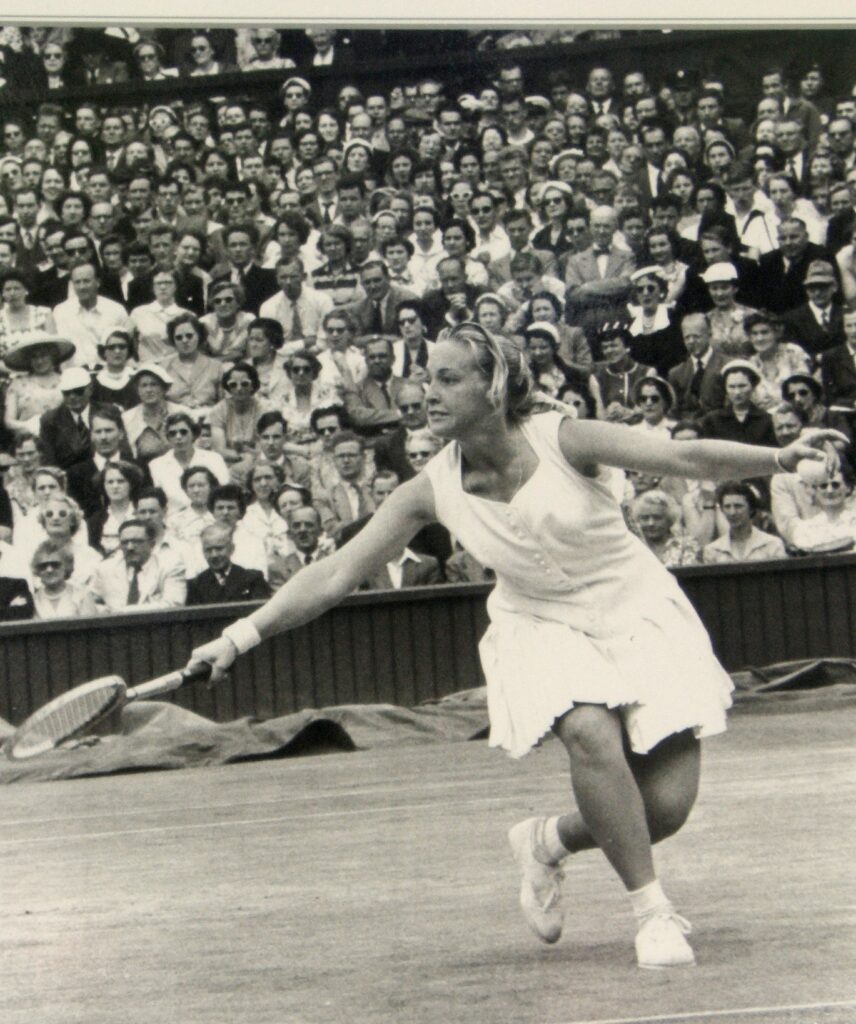 Hard was a bold competitor and had a telling volley, a combination that led to her excelling on grass. In London, she was the 1959 Ladies' Singles finalist to Brazilian Maria Bueno. In 1960, Hard defeated Yola Ramirez of Mexico for the Roland Garros Women's Singles title and doubled teaming with Bueno for the Women's championship. Moving across "the pond", the Hard-Bueno tandem captured The Championships Ladies' Doubles trophy and they triumphed again in 1963.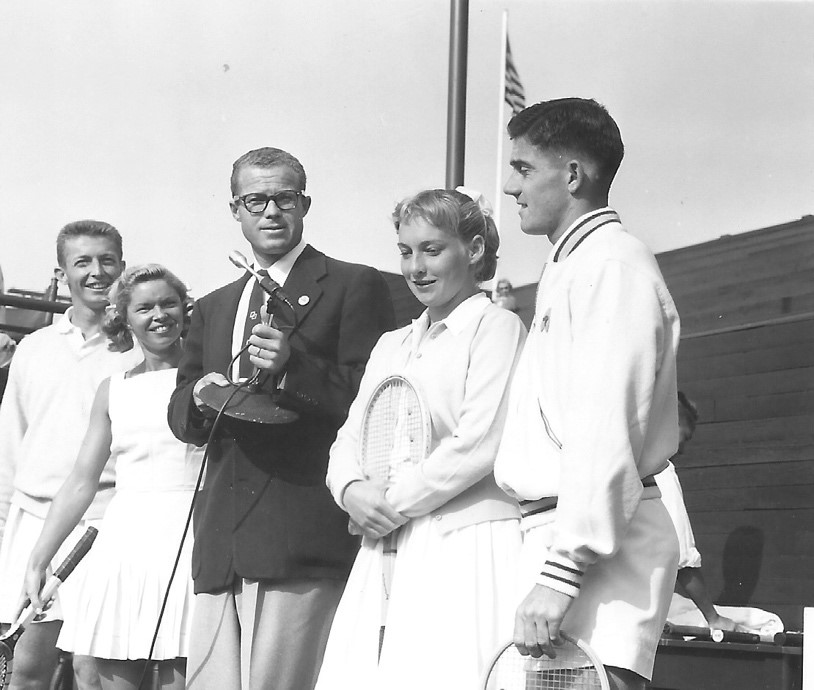 Her mixed doubles prowess was first showcased in 1955 at Roland Garros when she and Gordon Forbes of South Africa were the winning team. In 1957, she and Merv Rose of Australia were the best in The Championships Mixed Doubles field. Two more London mixed wins follow both with the talented Rod Laver in 1959 and '60. (The duo scored a team trifecta claiming the Roland Garros Mixed title in 1961.)
Following her passing Laver, the legendary Australian, told Los Angeles Times columnist Bill Dwyre, "I'd go out onto the court with her and I'd tell the other team that I wouldn't have to hit any overheads. Darlene would hit them all. They'd start hitting hard shots at her at the net and she would get them all back. Pretty soon, the word was out. 'You better hit the ball at Laver'."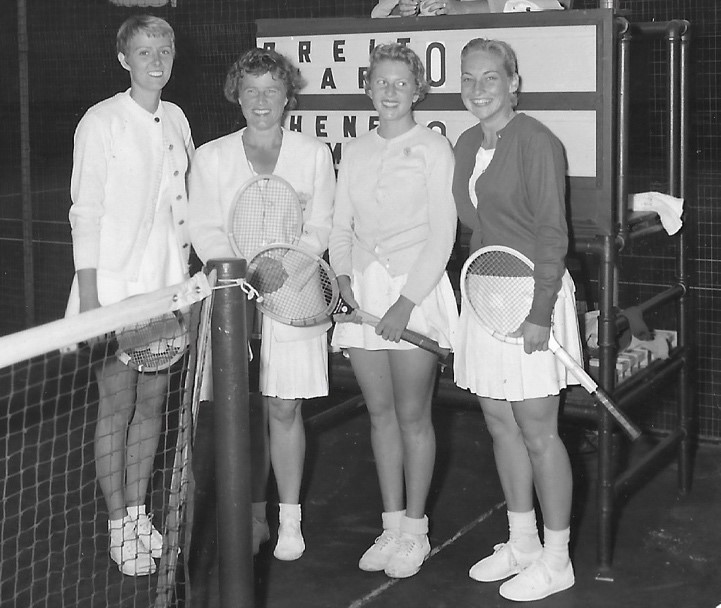 Billie Jean King was even more forthright, with Dwyre, discussing her relationship with Hard. King, who was Billie Jean Moffitt, at the time, explained that as a 13-year-old, when Hard was attending Pomona College, they would regularly practice. King noted, "She was the best doubles player of her generation and when she asked me to be her doubles partner at the 1960 US National Clay Court Championship, when I was 16, she boosted my confidence immensely."
Hard won her inaugural National Clay Court Doubles title in 1957 with Gibson. After her triumph with Moffitt, she teamed with Sue Belmar for the trophy in 1962 and with Bueno in 1963.
In 1964, at the age of 28, Hard stopped playing the competitive circuit and became a teaching pro at facilities she owned in the San Fernando Valley. After spending years in the sun, she began having skin cancer issues, which along with the toil of teaching day after day, led her to seek a change.
This is where Mona Cravens stepped in. She and her husband, Terry, had been taking lessons from Hard. When Cravens, who is now the USC Director of Student Publications, learned that Hard was looking to leave the teaching court, she offered her a position at the school's Publications Department. (Later, Cravens admitted she did not fully realizing, since Google didn't exist, what an exceptional a player Hard had been.)
Hard spent 45 years at the university and like her tennis career she was thorough in everything she did and very respected. She was as diverse as her playing skills working on the university's computer system then establishing a presence in the publishing of the school's yearbook and the Daily Trojan newspaper. Cravens noted she was very committed and "…had a very good eye for design."
All told she won 21 Grand Slam championships. The 1969 US Open Women's Doubles was her last and the most enthralling of all her Grand Slam victories. Originally Hard planned to play with one of her students but the new Open rules designated Hard "a professional" though she was a teaching pro, not on the tour. Her partner was an amateur which meant the two could not team up. Left without a someone to play with, she mentioned the problem to player she knew from her days at the Los Angeles Tennis Club, a guy named – Richard "Pancho" Gonzalez. He introduced her to another player who had lost her partner – Françoise Dürr.
The delightful French performer, who gripped her racquet with her index finger pointing up the handle, had a serve so slow she could almost beat it to the net and regularly came flying into front court to hit angle volleys that defied description, was half of the "Odd Couple" duo. Hard, in turn, was relentless, cannoning serves and overheads and volleying with point-ending precision.
The thrown together pairing reached the final. Hard and Dürr lost the first set, 6-0 and were down 2-0 in the second to Margaret Court of Australia and Virginia Wade of Great Britain. At that point, Hard suggested that it would be great to win a game so they could, at least, get on the scoreboard. The "hoped for one game…" became a blitz. They captured twelve of the next seventeen games and took the title, 0-6, 6-3, 6-4. The victory was even more amazing because Hard had not been a competitive player for six years.
Though unknown to many tennis fans, Hard was appropriately recognized over the years. First by the International Tennis Hall of Fame when she was inducted in 1973. Next by the Women's Intercollegiate Hall of Fame in 1997. And finally, by the Southern California Tennis Association Hall of Fame in 2007.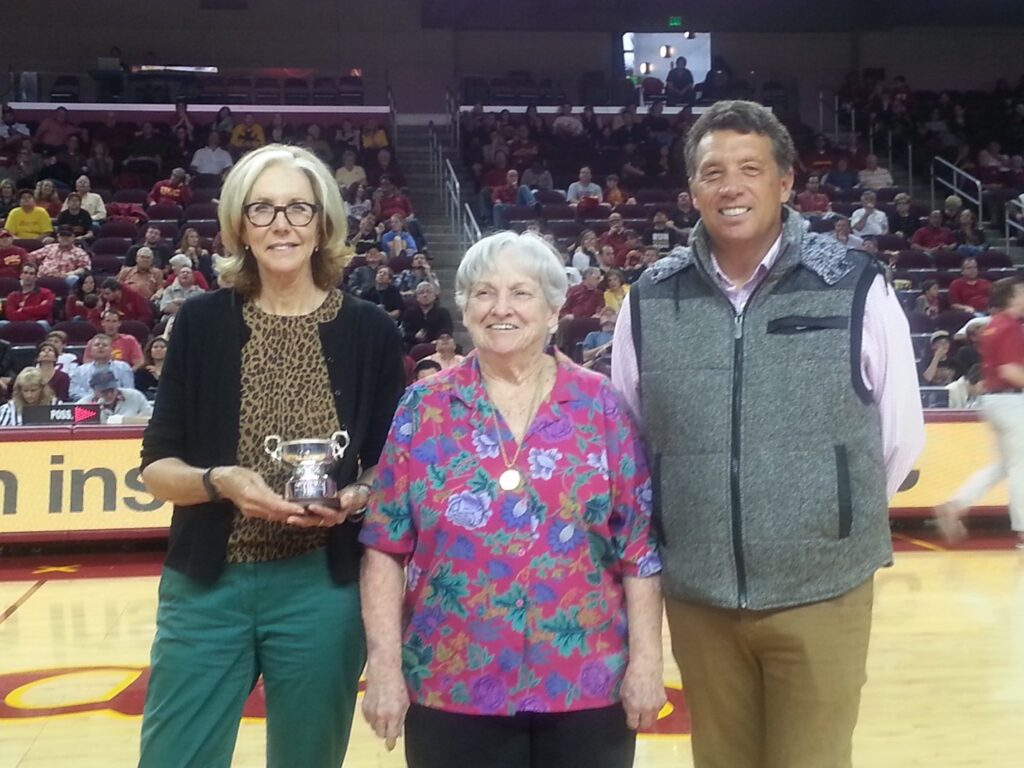 It is fitting that the final time Hard was honored was in 2014 at a USC-Colorado basketball game, no less, at the Galen Center, (which is on the USC campus). As Pam Austin, at the time the USTA Fed Cup Chairwoman, who organized the salute, said, "Last year was the 50th Anniversary of the Fed Cup. The International Tennis Federation has given all the players who were part of the winning teams that garnered the championship a replica of the trophy with that years' champions engraved on it.
"They only started presenting the replicas a few years ago. In 2013, at the BNP Paribas Open and US Open, players were honored. Darlene could not attend. Instead of sending the trophy to her, I wanted to do something special since she was on the first team, along with Billie Jean Moffitt (King) and Carole Caldwell (Graebner), when the US won the prestigious trophy."
Austin continued, "Darlene has had a long-standing relationship with the university and Richard (Gallien), the women's tennis coach, arranged to have the presentation take place at USC because she has worked there for so long."
From all indications, the private Hard enjoyed the affair. "I think she was delighted," Austin later said. "She waved to the crowd and they loved her. Before the ceremony, she gave us a fantastic interview for the USTA Oral History project that was being put together. She told wonderful stories about traveling with the Aussies 'Rocket (Laver) and Emmo (Emerson)'. It was particularly important because when she played, on four winning Wightman Cup (Fed Cup) teams, there was little coverage of the events."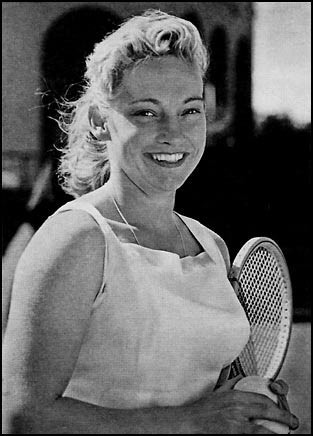 There was so much more to Darlene Ruth Hard than her Greta Garbo-like resistance to notoriety. On January 6, 2022, she would have turned 86 and though she will miss the birthday celebration … She should forever be remembered.