Skip to content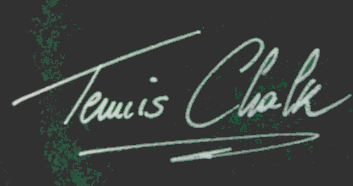 Shots to remember
Black History Month And Black Tennis Continue To Evolve…
In 1926, Carter Woodson, a historian and founder of the Association for the Study of Negro Life and History with Jesse Moorland, developed the idea of making the second week of February, "Negro History Week". The concept was significant from a historical standpoint because Abraham Lincoln and Frederick Douglass had February birthdays, (Lincoln's was on the twelfth and Douglass' was on the fourteenth). The goal of the celebration was to broaden understanding about social issues and to provide cultural insight. (Teaching "Black History" was the immediate objective of the weeklong focus.)
Annually, the second week of February was celebrated as Negro History Week until 1969, when Black United Students at Kent State University proposed that February should become "Black History Month". A year later the first commemoration was held, at the university. In 1976, as a part of the Bicentennial Celebration, it was official recognized by the US government.
The founding of the American Tennis Association (ATA), November 30, 1916, was the genesis of Black Tennis in America. The Association Tennis Club of Washington, D.C. and the Monumental Tennis Club of Baltimore, Maryland joined forces in response to the United States Lawn Tennis Association's policy of excluding players of color from tournament participation.
The inaugural ATA National Championships was held in August 1917 at Druid Hill Park in Baltimore. Men' and women's singles, along with men's doubles, were contested. Because of the "Racial Separation…" attitudes that prevailed in those days, ATA events were staged at sites such as Central State, Lincoln and Hampton Universities (which had been Hampton Institute), along with Morehouse College. The African American schools offered courts and housing accommodations. But, more important, the annual "Coming Together" became a social activity that was a highlight each year.
At the time, "East was East, and West was West", and the difference between the two regions was more than distance. What is often overlooked is that because of the estrangement, Black players from in and around the Los Angeles area, established The Western Federation of Tennis Clubs (TWFTC), the cross-country counterpart of the ATA, also in 1916.
The first meeting took place at the downtown Los Angeles YMCA. (Today, the organization is known as the Pacific Coast Championship, Inc. In the early years, members clubs ranged from San Diego to Sacramento.) While the ATA has been in the forefront of opening tennis doors, California has played an essential part in the progress that has been made.
Map of some of main Universities, tennis clubs and places supporting American Black Tennis. Work by AC.
Looking back, it is painfully ironic that in tennis history, little if any, mention is ever made of Black schools such as Howard and Tuskegee Universities offering students an opportunity to play tennis beginning in the 1890s. Another significant, but ignored reality is that at the end of the decade, (1898 to be specific), African American players from the Mid-Atlantic and Northeast were taking part in tournaments staged at the Chautauqua Tennis Club in Philadelphia.
Althea Gibson and Arthur Ashe were tennis legends and icons. Before earning Grand Slam singles titles, they were ATA National champions. Gibson claimed her first Women's singles title in 1948 and the last of her record ten straight in 1956. Ashe was the Men's singles winner from 1960-62.
Jimmie McDaniel grew up in Los Angeles. The talent he developed on the local public courts enabled him to become a tennis star at Xavier University of Louisiana, the Black Catholic school in New Orleans. An ATA National champion from 1939 to '41, he put cracks in the color-separation barrier when he played Don Budge, who won the first Grand Slam in 1938. The exhibition match took place on July 29, 1940 in Harlem at the Cosmopolitan Tennis Club, which was affiliated with the ATA. According to accounts 2,000 spectators watched Budge, who turned professional after winning the Australian, French, Wimbledon and US Nationals, defeat his opponent in straight sets. He then paired with Reginald Weir against McDaniel and Richard Cohen in a doubles contest. (Weir made history again in 1948, when he competed at the USLTA Indoor Championships, in New York.)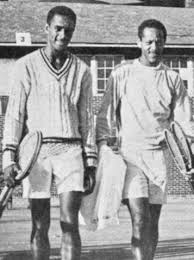 Some readers may remember hearing about the times when the cost of a gallon of gas was twenty-five cents and highway traffic was minimal so driving 100 miles didn't take most of a day. During that period it was possible to make "Road Trips" to play tournaments around the country.
When she was in her nineties, Jean (nee Glover) Richardson, a Los Angeles resident, recalled driving to the ATA National Championships. She regularly traveled with Eleese Thornton, Bertha Hancox and Myrona (Roni) White. Richardson remembered playing Althea Gibson for the first time at the1953 ATA Championships at Bethune-Cookman College (now University) in Daytona Beach, Florida. She faced her again in 1955 at Wilberforce University in Ohio, which is the oldest private African American school in the country. She also recalled seeing Arthur Ashe, as a twelve-year-old, play at a Daytona Beach event in 1954.
As a junior, Beverly Coleman was touted as the "Next Althea". She fondly reminisced about the help Richardson provided and how one year, she rode with Thornton to the ATA National Championships. On this occasion, so did Earthna Jacquet, (the 1954 Men's singles winner), and Willis Fennell, a twelve-year-old with "Huge Potential".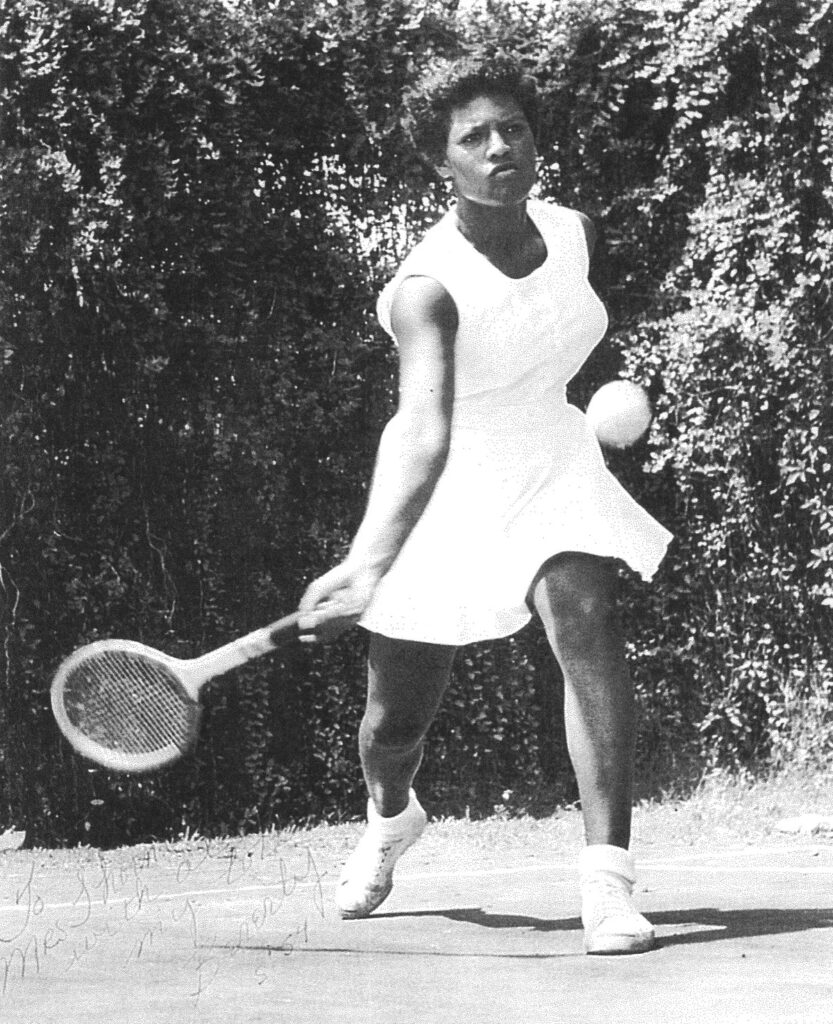 Beverly Coleman Photo Beverly Coleman Collection
Eleese Thornton (on far left) and Beverly Coleman (on far right) with two ATA Championships opponents at Bethune-Cookman College in Florida
8/5/1940-New York, NY: Jimmie McDaniels in action at the New York State Negro Tennis Championship at the Cosmopolitan Tennis Club in New York City.
Coleman was fifteen at the time and reached the Girls' final. She remembered that Jacquet, a superb serve and volleyer, did much of the "Heavy Driving". Extremely handsome, he not only hit with her, in Los Angeles, when she was a teenager, he also made sure she was always safe, no matter the situation. (To this day, Jacquet is revered on the South side of Los Angeles for taking care of youngsters who needed guidance, whether it was about tennis or life in general. He was renowned for helping those whose fathers were not involved with their families and securing a host of youngsters scholarships to Morehouse College.)
Black History Month is always much more than the second month of the year…Like Black tennis it has evolved…But, even more significant… Both continue to do so…